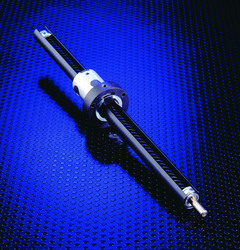 Hollis, NH (PRWEB) June 12, 2008
Kerk Motion Products, one of the world's premier manufacturers of non-ball leadscrews, offers the updated ScrewRail, which combines drive and support/guidance components in a single, compact, coaxial design to save space and reduce cost. Kerk's patented ScrewRail is currently being used in applications for a number of industries, including medical, data storage, semiconductor, industrial machinery, printing/plotting and general automation.
By eliminating the need for external rail-to-screw alignment, the ScrewRail simplifies the design, manufacturing and assembly of motion systems. The ScrewRail's coaxial design saves as much as 80% of the space used by a two-rail motion system. The ScrewRail reduces cost because: it is less expensive than purchasing the equivalent components separately; it contains lower-cost support components; and it dramatically reduces labor content.
The ScrewRail comprises a precision rolled leadscrew, supported by sealed bearings and contained within a concentric steel guide rail, that drives an integrated nut/bushing. Because all alignment requirements are achieved within the ScrewRail, support and positioning is much less critical than with traditional slide assemblies. TFE® coating and self-lubricating nut/bushing materials ensure long life without maintenance. The ScrewRail has recently been upgraded with a metal-reinforced bushing, providing increased strength and stability.

The ScrewRail offers two options for nut bushing: standard, and anti-backlash
Kerk's ScrewRail is unique in that a single coaxial motion system enables three-dimensional motion. When mounted vertically, the ScrewRail can be used to simultaneously lift and rotate (Z-theta motion). A compact, self-supporting pick and place mechanism can be built with one motor driving the leadscrew and a second rotating the rail.
The ScrewRail is available in Right-hand and Left-hand assemblies
The ScrewRail is available in outside diameters of .38", .5", .75", and 1", with leads ranging from .050" to 1.5", and can be manufactured in lengths up to 10 feet. Depending on the configuration, ScrewRails are able to support loads up to several hundred pounds.
For more information on Kerk's unique, space-saving ScrewRail, please visit http://www.kerkmotion.com/products/slides-actuators/screwrail-act-overview.asp
About Kerk Motion Products
Established in 1976, Kerk Motion Products, Inc. is one of the world's largest exclusive manufacturers of non-ball leadscrews. The company, headquartered in Hollis, NH, develops internationally patented, anti-backlash designs and materials that provide high accuracy, unsurpassed repeatability, and long life in a full range of motion control applications. The company's production facilities include its own injection molding and moldmaking, CNC machine tools, and a quality control department utilizing real-time SPC. For more information about Kerk Motion Products and its lines of leadscrews, screw rails, and linear rails, contact Kerk Motion Products, Inc., 1 Kerk Drive, Hollis, NH 03049; Call 603-465-7227; Fax 603-465-3598. More information is available at http://www.kerkmotion.com.
###