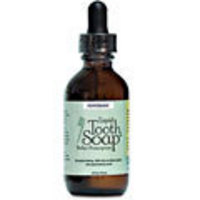 a power wash for your teeth
Oregon City, OR (PRWEB) June 12, 2008
Tooth Soap®, the all-natural alternative to traditional toothpaste won the highly-respected Editor's Choice Award from The NaturalNews.com Network, a non-profit collection of public education websites covering topics that empower people to make positive changes in their health, environment and consumer choices.
The 2008 award-winning Tooth Soap®, which comes in a variety of flavors -- including citrus, peppermint and chocolate -- is based in Oregon City, Oregon and is the brainchild of entrepreneur Karen Adler who developed the easy to use liquid soap as a way to get her own kids to brush.
Adler, who describes the Tooth Soap® experience as "a power wash for your teeth" created the company in 2003 and says winning the coveted award is "Fantastic! It's a pleasure to see Tooth Soap® honored in this way, especially by NaturalNews.com as they are such a cutting edge and reliable information source for health and wellness."
Adler adds that Tooth Soap® has always been a winner because it's the natural alternative to toothpaste. "Tooth Soap® cleans teeth and gums perfectly, removing oils and other contaminants from the teeth, unlike conventional tooth cleansing products that can coat the teeth with sticky residue. Most importantly, teeth brushed with Tooth Soap® facilitate re-mineralization from nutrients in saliva."
Adler's mission for cleaning teeth using natural soap starts with all-natural ingredients like organic extra virgin olive oil and wild-crafted essential oil among others, and it's her obvious passion. "Research demonstrates that pure soap is the best product one can use to improve and maintain optimum dental health. Unlike pure soap, currently available oral care products contain chemicals such as fluoride, added sticky glycerin, dyes and artificial flavors and sweeteners that can turn some consumers off," Alder said. And with the ever-growing Green movement and the ongoing search for products that are non-toxic and chemical free, Tooth Soap® fits the bill perfectly because most of its ingredients are ones you'd find in your own kitchen.
Tooth Soap® was the subject of an article written by the Columbia News Service, a news provider for the New York Times, citing its growing number of loyal customers and its eleven yummy flavors.
Adler can be heard on radio programs, such as BigMediaUSA's program, "WHATever" with host, Hollywood correspondent Gayl Murphy and the "Health Ranger Show" with Mike Adams.
For more information about Tooth Soap® and Tooth Soap® products visit http://www.ToothSoap.com
# # #