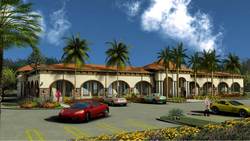 Coral Springs, FL (PRWEB) June 13, 2008
Doctors buying Coral Springs medical condominiums now have a luxury option just minutes from two hospitals and in the heart of one of South Florida's largest suburban areas.
Florida commercial real estate developer and commercial property specialist, Bayshore Land Group, announced today the groundbreaking ceremony for its latest medical condominium project, Royal Palm Square. The ceremony will be held June 26th at 5:30 pm, with Coral Springs Mayor Brook expected to be in attendance. Bayshore Land Group commemorates its $10,500 donation towards the Coral Springs Public Art Fund last year.
"Despite a challenging real estate market, we are pleased to move forward with Royal Palm Square and offer the medical community and its patients a state-of-the-art venue like Royal Palm Square. Coral Springs has been very supportive and we look forward to providing them with a quality addition to their community," said Jay Fertig, President of Bayshore Land Group, parent company and developer of Royal Palm Square.
Royal Palm Square Groundbreaking Details
When: Thursday, June 26th, 5:30 pm
Where: Royal Palm Square, 8880 Royal Palm Blvd, Coral Springs, FL
What: The addition of Royal Palm Square to the Coral Springs community with Mayor Brook and other members of the Coral Springs Chamber of Commerce.
Located in downtown Coral Springs, Royal Palm Square is the newest medical condominium building in the area offering 25,000 square feet of Class "A" medical, professional, or condominium office space. The Mediterranean-style setting allows tenants full flexibility of design and amenities and custom build out options including marble tile, granite countertops, and wood cabinetry.
For more information about the location and sales of Royal Palm Square visit: http://www.RoyalPalmCS.com or call (305) 445-6161 and speak to Jay Fertig.
Royal Palm Square is located at: 8800 Royal Palm Blvd., Coral Springs, FL, 33065.
About Bayshore Land Group
Bayshore Land Group, Inc is a full service real estate development and investment management company providing targeted site acquisition services, entitlement administration and commercial/residential development capabilities. Owners Jay Fertig and Chris MacNair specialize in projects throughout Florida, both in mature and developing markets, with a keen eye towards identifying underutilized and undervalued real estate. Bayshore's clients include nationally known end-user retail tenants and many medical professional users. Bayshore just completed 60,000 square feet of medical space on Florida's West Coast with 24,000 additional square feet in the planning stage. For more information visit: http://www.bayshorelandgroup.com
###