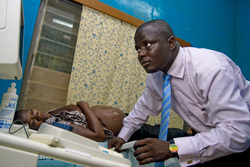 New York, NY (Vocus) June 12, 2008
On April 26, 2008 Doc to Dock delivered to the Tepa District Hospital in central Ghana, a 40ft container of medical supplies with an estimated cargo value of $400,000. This container included the hospital's much anticipated first ever sonogram machine, a new operating room table, an anesthesia machine, the hospital's first defibrillator, two new birthing beds, 20 hospital beds and over 500 boxes of sterile, surgical supplies.
Doctor Isaac Boateng, the chief medical officer of the hospital cares for over 2,000 pregnant women a year and delivers over 40 babies a week. Many of these women present with pregnancies of unknown duration as the villagers often do not keep track of traditional time. A sonogram machine was a top priority for this hospital in order to give Dr. Boateng the tool he needed to measure gestational age, fetal and placental position, and other vital information necessary for safer deliveries. The delivery of the sonogram machine was particularly poignant as Dr. Boateng had initiated a collection drive, one nickel at a time, among the villagers to try and purchase such a machine in the future. He estimated that at the rate of collection, it would have taken them over a decade to buy the machine.
Dr. Boateng has reported that as of June 11, he has performed over 60 sonograms. The Tepa District hospital serves a community of over 100,000 rural villagers in central Ghana who now for the first time have many of the supplies they needed.
###