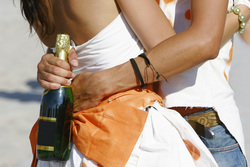 It is believed that a sudden increase in sexual activity can sometimes trigger the onset of a UTI, otherwise known as honeymoon cystitis
Edison, N.J (PRWEB) June 12, 2008
June is the beginning of the biggest wedding season of the year, so as brides-to-be get ready for their big day, they also need to plan ahead for a happy and healthy honeymoon.
According to a recent Harris survey commissioned by the urinary pain reliever Cystex®, the top two ailments that can ruin a romantic vacation are "diarrhea/stomach upset" (52 percent) and "UTIs" (31 percent). When preparing for this very romantic honeymoon vacation, don't just fill a suitcase with sexy lingerie; also pack a few OTC medications for the trip, as ailments, such as urinary tract infections (UTIs) can put newlyweds not in the mood for love.
A UTI has painful symptoms, including lower pelvic pain, the frequent urge to urinate, painful urination and general flu-like symptoms, all of which can put a damper on sexual activity, so infection prevention is very important.
"It is believed that a sudden increase in sexual activity can sometimes trigger the onset of a UTI, otherwise known as honeymoon cystitis," says Larrian Gillespie, a retired urogynecologist and author of the book, You Don't Have to Live with Cystitis, The Groundbreaking Guide to the Prevention and Cure of One of Women's Most Stubborn Ailments (Quill, An Imprint of HarperCollins Publishers). "Sex can easily introduce bacteria into the female urethra, and for women with lazy bladders (those who experience weak urination), or, are using barrier contraceptive methods (such as diaphragms or sponges), these factors can increase their chances of getting a UTI, as they make it difficult for the body to flush out excess bacteria that may have entered the bladder."
While honeymooning, Gillespie suggests practicing some healthy habits for a UTI-free sex life, including emptying the bladder after intercourse, wiping from front to back after urinating and drinking water between celebratory drinks to minimize becoming dehydrated. She also suggests taking the over-the-counter urinary medication Cystex® before engaging in sexual activity to help prevent UTIs. The medicine contains the natural antiseptic methenamine that helps stop bacteria from adhering to the wall of the urinary tract, which prevents the infection from occurring in the first place.
If a bride finds herself "not in the mood" and battling a full-blown UTI, Cystex® also contains a reliable analgesic to stop the painful symptoms of a urinary tract infection. While waiting to see a doctor for a UTI diagnosis and antibiotic therapy (the only true way to cure an actual UTI), Gillespie also suggests drinking plenty of water to help flush excess bacteria from the urinary tract and using a heating pad (placed on the abdomen) to help relieve pain.
For women looking for reliable information on UTI prevention and treatment or who would like to ask an expert about general urinary health, Cystex® has a new Web site and blog, as well as the Bathroom Diaries listing of local public restrooms throughout the U.S. at http://www.cystex.com.
###