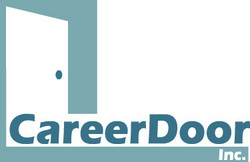 Having listened to all the talk about
Toronto, ON (PRWEB) June 12, 2008
CareerDoor, Inc. announces its largest event of the year for its June 19th, Toronto CareerDoor Technology & Technology Sales Career Fair.
"Having listened to all the talk about "The Talent War" and observed the unwillingness or inability of corporations to act over these many months, we now finally see a dramatic upswing in the number of companies participating in our career fair events where they can recruit successfully and do it in a cost efficient way. Up to now, the majority of the talkers were turning to the status quo to address their labour shortages –- apparently unsuccessfully. So, it's refreshing to see that the participating Toronto, Waterloo and Alberta organizations in this current event are taking the lead and making a significant effort to meet technology talent -– over a handshake -– in this robust Toronto technology talent pool and to hire successfully," says CareerDoor CEO Terri Joosten.
The participating companies in our June 19th, event include major Corporations the likes of The Bank of Montreal, The Royal Bank of Canada, Research in Motion, Manulife Financial, Maple Leaf Foods, Emergis, and Dell Canada as well as other well know organizations and boutique firms including; 2iSolutions, Agfa Inc., Axiom Real Time Metrics, Webkinz, NCI, Perficient, Wescom, The Economical Insurance Group and Versa Systems. Also at the event will be two leading recruitment agencies, TES – The Employment Solution and Ian Martin Information Technology. Everest College, Maverick Solutions and 24/7 Resumes round out the list of exhibiting companies offering career training and Career development opportunities.
"Companies are finding it difficult to source talent possessing the right combination of the technical skills and the people skills necessary to work in, or to lead teams. Reading resumes posted for IT Jobs alone is not sufficient to identify the latter – the people skills. Despite the advancements in recruiting technology and methods, career fairs remain a staple in the recruiters' arsenal as a means of identifying the communication skills of large numbers of qualified candidates at one time thereby improving dramatically your hiring success rate as well as shrinking the time-line from the first meeting to offer which helps avoid missing out on that prized candidate. Meeting candidates' face-to-face is the only proven way to enable a recruiter to quickly and effectively judge if a candidate has all the requirements needed to perform effectively," says CareerDoor CTO Chuck Mariotti.
The majority of employers are in agreement that the overall pool of available Technology Professionals for hire in Canada is shrinking and that more aggressive – yet cost effective – recruiting measures are needed to be implemented immediately locally and nationally to take advantage of the reassignment of talent from locales in abundance to locales in need and for talent that has outgrown its current assignment and needs new challenge while at the same time acknowledging the need to support 'long term plans' for talent upgrading, the accessing of international labour pools and encouraging participation in technology programs at the college and university levels.
About Us:
CareerDoor Inc. leads the way with creative recruitment solutions that help employers to strategically position themselves to attract and hire Technology & Technology Sales professionals online, in print and face-to-face. Visit us at http://www.careerdoor.com.
Terri Joosten, CEO
CareerDoor Inc.
tjoosten(at)careerdoor.com
1-888-866-7750
http://www.careerdoor.com
This press release was distributed through eMediawire by Human Resources Marketer (HR Marketer: http://www.HRmarketer.com) on behalf of the company
listed above.
###