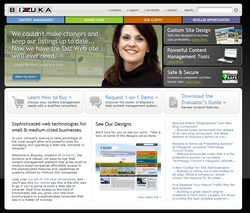 The opportunity to extend Bizzuka's influence from regional to national then global is one I thrive on
Lafayette, LA (PRWEB) June 16, 2008
Bizzuka, Inc. a leading provider of Web publishing and content management tools, today announced that Charles Lauller has joined the company has Senior Vice President of Global Sales and Business Development.
Lauller brings to Bizzuka over 15 years of technology sales and executive management experience. Previously, he served as director of sales at Broadspire, a provider of Web site design, maintenance, Web and application hosting, and IT outsourcing services. Lauller oversaw business development and market penetration into the real estate industry, establishing relationships with industry leaders including Sotheby's International Realty and Century 21.
Prior to Broadspire, Lauller held various sales and sales management positions for high tech companies, including pivotal roles in sales and sales management at Print, Inc., where he developed document management strategies and solutions for top law firms including Jones Day, Pillsbury Winthrop Shaw Pittman, Orrick Herrington Sutcliffe, and Morrison & Foerster. He helped propel the start-up to $50M in five years.
During Lauller's career he has consulted for many of Silicon Valley's top tech companies including Salesforce.com, Network Appliance, McAfee and Juniper Networks to provide more efficient and cost effective solutions for mission critical business processes.
"We are forecasting rapid growth over the next four years, and in order to achieve those lofty goals we needed a seasoned veteran with a proven track record of exponential success," said Bizzuka CEO John Munsell. "Charles fit the bill to a tee. He brings an entirely new dimension to Bizzuka's sales force, his track record is astounding and his experience in Web technologies and distribution is a rare find. We are thrilled to have him on board and know that he will help our sales force reach the quantum leaps we've forecast."
"The opportunity to extend Bizzuka's influence from regional to national then global is one I thrive on," said Lauller. "I'm convinced that our powerful Web content management system, combined with the Bizzuka's very competitive spirit, is more than enough to make us a contender in major markets around the world."
About Bizzuka
Bizzuka provides custom Web site design and content management services and intranet development services for small and medium sized business throughout Louisiana and the United States.
Bizzuka's mission is to give small businesses access to the same technology that was previously only afforded by big businesses, and to do so at a price that yields to our clients a return on their investment in months rather than years.
For more information about Bizzuka, please visit the Website: http://www.bizzuka.com, or call 337-216-4423.
###