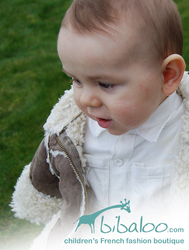 We love to be different, trying new things, offering what you haven't seen before.
Edinburgh, UK (PRWEB) June 12, 2008
Bibaloo.com, an online baby and children's French fashion boutique, announces its launch. Bibaloo answers a market demand for original and inspirational high quality children clothes (0-4 years) that are difficult to find in the UK. At Bibaloo, every member of their dynamic team are passionate about fashion, children, colours and the French art-de-vivre. "We love to be different, trying new things, offering what you haven't seen before."
Laurence Beauregard, co-founder and managing director says, "I thought about Bibaloo when I was repeatedly stopped and asked spontaneously by envious parents where to get the clothes my son was wearing, all bought in France. I created Bibaloo when I realised that there was a real market demand in the UK for stylish and colourful quality clothes made by designers specialising in fashion that would make babies and children feel comfortable while standing out from the crowd." Laurence, a French mother who has been living in the UK for many years, left a high managerial position in industry to develop the company.
For the summer season, Bibaloo is now offering France's most famous children designers that are a favourite among all French mothers, such as Clayeux or Petit Bateau. Very successful and increasingly popular up-and-coming French designers can also be found such as Arsene et les Pipelettes, Happy Garden and la Queue du Chat. Many more famous brands will be available in August for the winter season.
A grand opening sale is taking place from now until August 8, 2008. During this time, customers can receive 10 percent off their total purchase by using the following coupon code: welcome.
Bibaloo offers also high quality baby and children's accessories and very special baby gift packs. The gift packs offer was developed to cover a wide range of needs and budget. The company sells worldwide and does not compromise on quality. It keeps its margin and overheads low to remain competitive
For additional information about the subject of this release, please contact:
Laurence Beauregard
+44 131 461 3046
http://www.bibaloo.com
###