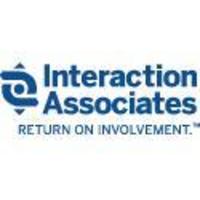 Help! My Teammates are Driving Me Crazy
Cambridge, MA (PRWEB) June 12, 2008
Interaction Associates (IA), the 40-year performance improvement firm with deep expertise in collaboration, today released the white paper, "Help! My Teammates are Driving Me Crazy," by senior consultant Jay Gordon Cone. The firm, which is known for developing leaders and helping organizations charter, develop, and sustain high-performing teams, offers the white paper free for download at its website.
"Everyone encounters it at one time or another: behavior by team members that drives you crazy!" says white paper author Jay Gordon Cone. "And in today's matrixed organizations, that's a recipe for disaster. But there are powerful ways to get past personality issues and become more effective as a team," he added.
The white paper "Help! My Teammates are Driving me Crazy!" includes:
1. A helpful model to understand what motivates certain behaviors.
2. Ways to improve the effectiveness of your own responses.
3. Strategies to turn a downward spiral into a virtuous cycle.
About the Author
Jay Cone has spent the past 25 years helping leaders and teams collaborate productively. His current consulting practice focuses on senior team facilitation, strategic thinking, leadership development, and innovation. Jay serves on the faculty of the Executive MBA program at The University of Texas at Dallas, where he teaches innovation and collaboration. His articles on leadership development have appeared in Training Magazine, The Training & Development Journal and The American Society for Training and Development's Best of Customer Service Training. Jay received a BA in Philosophy from U.C.L.A. and an MBA from the University of Texas at Dallas. He is certified in Management Research Group's Strategic Leadership Development Process, The Center for Creative Learning's VIEWTM assessment of creative problem solving styles and is CAPT qualified to administer Myers-Briggs assessments.
About Interaction Associates
Interaction Associates, Inc. (IA) is a leading global innovator of proven solutions for improving performance through the power of human collaboration. IA has 40 years' experience helping hundreds of companies and organizations around the world. IA helps organizations build the needed collaborative capability to produce extraordinary results, improve critical business processes, and create and maintain trusting and productive work relationships. More at http://www.interactionassociates.com.
This press release was distributed through eMediawire by Human Resources Marketer (HR Marketer: http://www.HRmarketer.com) on behalf of the company listed above.
###