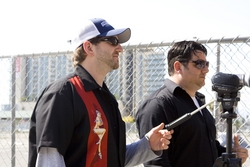 It's part parody, but we really wanted to create an homage to the guys we grew up following, like George Clooney and Steven Soderberg
Studio City, CA (PRWEB) June 12, 2008
Paisano Pictures announces the launch of its second episode of the viral Internet-based series, "Oceans 7-11," on Monday, June 30th. The episode will premiere at 8:00 p.m. EST at http://www.oceans711.com and will be available on YouTube the following day. The show was created by Tim Calandrello and Heath Centazzo, two guys who have been building their careers in Hollywood for almost ten years working for other companies - until they realized they could let the Internet's instant audience of millions judge the duo's creative ideas for themselves.
Irreverence…and a Bit of Hero Worship
"Oceans 7-11" follows the successes and mishaps of a crew of North Hollywood misfits as they pull off the ultimate heist - or at least a pretty good one. Lead character Clooney Ocean is the king of small-time scams, but for once this con job is about more than a pay-off of a few bucks. He's a small time operator with a new big idea: knock off a local chain of convenience stores, which is owned by city scoundrel "Eggs" Benedict, who happens to have a long history with Ocean - and more recently with Ocean's former girlfriend, Fiona. Ocean assembles a partially-skilled, if out of work and a bit rusty, team of grifters. They are quickly bound together to accomplish one daring heist: bring down Benedict's empire of three small stores and get back Ocean's girl.
"Oceans 7-11" is an eight episode series that began airing in January, 2008. Each episode consists of two parts running approximately seven to ten minutes each. "It's part parody, but we really wanted to create an homage to the guys we grew up following, like George Clooney and Steven Soderberg," says Calandrello, Executive Producer and Director, who has produced television series for several years. Adds Centazzo, "We realize we have to renew the viewers' attention every couple minutes, or they'll move on to an uploaded home video on YouTube of someone falling off a ladder. The challenge is to attract that 18 - 34 year old age group with attention spans ruined by years of playing video games and watching MTV if we ever expect to get anyone's business interest besides our families'."
The producers created the series to air on its official website (http://www.oceans711.com), YouTube, iTunes, Amazon Unbox, MySpace and other websites that allow public viewing of the project.
How Did That Happen? Number 1 Around the World on YouTube and Veoh
The project started when Centazzo was making his daily stop at a 7-11 store in 2007 after watching Soderberg's 2001 remake of "Ocean's 11" and - just like that - he had the idea for the series. After some lengthy brainstorming and soul searching, the long-time friends decided to put their jobs on hold and threw in the limited savings had they accrued over the years into the project. They have handled every aspect of the production, including script writing, casting, filming, editing and marketing. Within six months of starting the project, they released a trailer on the Internet which generated 20,000 unique hits. When the team released its first full episode, it was profiled on the leading Internet TV service Veoh for its "Viral On Veoh" show, which has since generated almost one million hits, the strongest response for the show to-date.
"Oceans 7-11" Episode 1 was then chosen by YouTube as a "Featured Video," generating 30,000 hits within a day and a half. It instantly became the number one YouTube video in 19 countries, including the US. The duo credits its website-based promotional efforts, such as offering posters based on the series for download, with building interest in the show. "A decision we made early on was to invest in a high quality website with interesting content to keep people coming back," says Centazzo, Executive Producer who also plays the lead character Ocean.
Risk is Relative
Even though webisodes are much less expensive to produce than more traditional entertainment, like television shows and movies, "Oceans 7-11" has still been a huge risk for Calandrello and Centazzo. They've put their jobs on hold and used savings and credit cards to finance the project, as well as found creative ways to fund the series. "In the 2001 remake of "Ocean's 11," all the A-list actors famously took a voluntary salary cut to make the film. Our actors didn't have a choice - they've been paid pizza and Big Gulps from 7-11," jokes Centazzo.
The creators of "Oceans 7-11" hope that the Internet and their recent success will help them expedite distribution interest in their show and future projects. "We know there is a wave of small and big time producers getting into the [web series] business, but we think we have something that people want to watch - and that's unique, even with all the new shows on the Internet," notes Calandrello.
About Paisano Pictures:
Paisano Pictures is led by Tim Calandrello and Heath Centazzo, two friends from Syracuse University in the mid-90's who have been pursuing careers in the L.A. film business since they graduated. Calandrello, through his production company Deep Underground, Inc., has worked as a producer/director/editor on series like "American Chopper" for the Discovery Channel and "Geek to Freak" for HDNet. Centazzo has worked as an actor, recently in independent films "Hearts of Now" from Sabi Pictures and cult favorite "An Uzi at the Alamo". The Company's mission, called "Just One Damn Percent," is to create catchy, unique web-based series targeted at the 18 - 34 year old demographic - and find some corporate sponsors while doing it. After all, research firm eMarketer predicts the web video ad market will top $4 billion in just couple of years (one damn percent of that market is only $40 million). "Oceans 7-11" is the Company's first series. Paisano Pictures is based in Studio City, California.
###