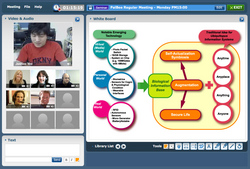 Seoul, Korea (PRWEB) June 12, 2008
Palbee today announced the release of a new version of its online video conference service, Palbee.com. The new service includes several significant improvements, including support for up to ten conference participants and the ability to resize the white board or video display window. The design of the window and the layout of the interface and control buttons have been streamlined to be more intuitive as well. The new features and service remain freely offered to anyone who registers, making virtual meetings with Palbee a tempting alternative to business travel.
The new version of the Palbee service includes support for up to ten conference participants to speak together in real time. The previous version of Palbee supported only five participants by default, with the option for expanding the conference to nine. The latest version of Palbee includes support for ten participants natively. All ten participants can use the collaboration tools to draw, write, color, and type in the white board area and display photos, graphics, or PowerPoint presentations.
The newest Palbee also includes the ability to customize the conference window to suit the needs of the conference. If the host would rather focus on the video chat capabilities of the conference, it is now possible to maximize the video display area and minimize other areas of the conference interface. Or, if it is more convenient to focus on the whiteboard area, the whiteboard can be maximized to take up most of the conference window.
Finally, the new layout of the conference interface groups the various tools and slide controls in a more intuitive arrangement. Similar buttons have been layered together and arranged along the bottom of the interface to be less intrusive. The tools should be familiar to users of popular photo editing and presentation programs.
The changes are the first stage in a more comprehensive overhaul of Palbee.com. Additional changes are scheduled for later on in June. As always, the service is free to those who sign up at Palbee.com.
Palbee retains its recording and embedding features, which allow registered users to record presentations and embed them like YouTube videos. And live Palbee conference windows can also still be embedded into web pages as well, for those who want real-time video collaboration in the comfort of their own web site.
In today's environment of rising fuel prices, business trips are cutting deeper into the bottom line. More and more businesses are considering alternatives to face-to-face meetings. Existing paid virtual conferencing services are almost as expensive as a two day business trip. Palbee offers a free alternative to Business Class tickets and hotel accommodations, and saves time too.
About Palbee.com
Palbee combines several features of mobile phones, email, and online messengers into one online application that requires only a copy and paste to use. You can use Palbee for work - in marketing, sales meetings and conferences. You can use it at school to present or view lectures, school projects, and online tutoring. You can use Palbee in your personal life for contacting your friends and family and sharing photos. The applications of Palbee are endless.
The Palbee team is committed to developing the application to support our users in their communication and knowledge sharing. They hope you enjoy the Palbee online service.
About Zenitum Inc
Zenitum Inc. is an entertainment solution developer based on computer vision technologies headquartered in Seoul, South Korea. For three years, Zenitum has been developing unique services for both the mobile and web platforms including Facial Beauty Surgery and Facial Fortune Reading based on facial feature recognition technology. Recently, Zenitum has launched several web services harnessing its proprietary technologies.
For more information, please contact:
Matthew Weigand
Marketing Manager
Zenitum Inc.
+82-10-5877-3561
Matthew(at)zenitum.com
###