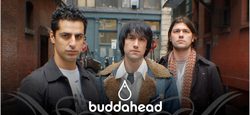 It was on the road, in the crammed space of the tour van, that our new sound was formed and Buddahead was reinvented as band
New York, NY (PRWEB) June 13, 2008
Every once in a while, a band comes along that refuels your passion for a musical genre. Buddahead is a perfect example taking melodic rock to new heights combining harmonized, mesmerizing riffs with strong melodic choruses to create songs that are as compelling and infectious as the intense story behind each one.
Buddahead frontman, songwriter and poet Kia has an extraordinary story to tell; he calls Ashes "music to lament to," and he is only half-joking. As a small boy, he fled Tehran for London with his father, after witnessing up close the internecine violence of the Islamic Revolution. In the U.K., he was reintroduced to the mother he'd virtually never known, since she'd left Iran years before him, and he found himself placed in the strange, regimented environment of a British military school. As he grew up, the feelings that Kia was unable to articulate in words alone found expression in songs. He was so intuitively skilled at this creative channeling that he attracted the interest of a major London music publisher. As Kia built a repertoire, he decided to go to the United States in pursuit of his first record deal.
After making the rounds in New York City and Los Angeles, he signed a deal with Interscope Records. So far so good, but it wasn't long before he discovered that the industry was more interested in molding him to suit the tastes of the moment than in exploring what he might really have to offer in his own right. Kia decided he would prefer to do it his own way. So he ditched the cadre of producers, mixers and constantly gear-shifting executives who surrounded him. He chose a tougher, more D.I.Y. approach to his fledgling career, touring relentlessly as a solo artist, opening for better-known acts. After meeting and working with bassist Toby Evers and Guitarist Simon Gibson, the trio began touring at an unrelenting pace, playing over 400 shows in less than two years. "It was on the road, in the crammed space of the tour van, that our new sound was formed and Buddahead was reinvented as band", says guitarist Gibson.
Back to their indie roots and staying true to themselves and their music Buddahead will release Ashes on June 17.
About Buddahead: After forming Buddahead in London, England, in 2001, Raman Kia (vox/guitar) joined current band members Simon Gibson (guitars) and Toby Evers (bass) in 2003. Their first album, Crossing the invisible line, which was produced by Don Gilmore and mixed by Andy Wallace was released in 2004 by Sanctuary Records and featured such musicians as John Popper of The Blues Traveller and legendary drummer Jim Keltner. The bands sophomore release, Ashes, is due out June 17th, on NYC independent label Fear of Cheese.
http://www.buddaheadmusic.com
http://www.myspace.com/buddahead
Press Contact: Dana Gordon at Independent Music Media
#213.864.2690 or IndependentMusicMediaDana @ gmail.com or HiDanaGirl @ aol.com
# # #