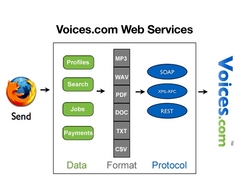 Developers who want to use Voices.com's API can sign up for a free key online
New York, NY (PRWEB) June 14, 2008
Voices.com, the voice over marketplace , has released an "application programming interface" (API) for its web service that is destined to make the tools for finding the perfect voice to record a voice over faster, easier and more accessible. Software developers will be able to build more sophisticated applications around Voices.com's services and content and another benefit is that freelance voice actors registered at the site will see an increase in work opportunities as well as the diversity of voice over requests.
The Voices.com API will let developers write applications that can be used to log in to client accounts, post jobs seeking voice over talent, search for voices, and complete the hiring process online, including the approval of audio samples, downloading of files and compensation of talent for their work.
The beauty of the Voices.com API is that developers will be able to take advantage of an established, award-winning, fully functional marketplace with a global database of over 20,000 voice actors who are able to work around the clock, some recording voice overs within a matter of hours. Voice actors at Voices.com represent over 100 languages and span all time zones breaking down traditional barriers that most talent recruiters encounter.
"Developers who want to use Voices.com's API can sign up for a free key online," Chief Executive David Ciccarelli shared, "and they are encouraged to profit from the resulting work. Naturally, it will become our responsibility to look for ways to solidify a partnership."
To join the Voices.com Developer Program visit:
About Voices.com:
Based in Canada, Voices.com is home to over 20,000 voice actors from around the world, servicing over 83,000 organizations who need voice overs recorded for a wide spectrum of projects including commercials for television and radio, videogames, animation, telephony, business and corporate narration, movie trailers, film, audio books, language translation and other voice over services. Clients that have worked at Voices.com include ESPN, ABC, Verizon, AT&T, Bell Canada, Audible, AOL, Microsoft, Carnival Cruise Lines, Make A Wish Foundation, The Los Angeles Times, Smithsonian, Capital One, Western Union, US Army the US Government and more.
###