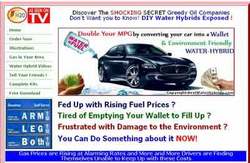 We have the technology, knowledge, and ability to make our vehicles two times more fuel efficient
San Jose, CA (PRWEB) June 16, 2008
Rising fuel prices are prompting drivers to investigate alternatives to the traditional gas sources they are used to using. Even when exploring options for converting vehicles to use other resources as fuel, they are confronted with the high cost of transitioning their vehicles. BestWaterHybrids.com provides a solution for both concerns by educating drivers and releasing a do-it-yourself manual that teaches them how to save on gas by converting vehicles to water hybrids.
"We have the technology, knowledge, and ability to make our vehicles two times more fuel efficient," explains BestWaterHybrids.com owner Adis P. "Do-it-yourself water hybrids are the solution. It is proven technology that is used by thousands of people already." The manual explains how to build a system that uses electricity from a vehicle to separate water into HHO (Hydroxy), which burns smoothly while providing three times more energy than regular gasoline while creating a clean end product--water.
Drivers looking for a gas alternative can purchase a do-it-yourself-manual at BestWaterHybrids.com to learn how to convert their existing fuel system to utilize water hybrid technology. Users follow step-by-step, detailed instructions accompanied by clear illustrations to install a water hybrid system that works to reduce environmental impact while providing a gas enhancement alternative that is an economical answer to high gas prices. This do-it-yourself manual outlines easy to find components and conveniently includes part numbers and locations where parts may be purchased.
By offering information about water hybrid technology as a way to save money on gas, BestWaterHybrids.com helps drivers save over 40% on gasoline, increase MPG by 20% to 80% and reduce emissions, global warming and related impacts. This do-it-yourself manual is available at an affordable price and can be used to convert cars and trucks into water hybrids.
"Renewable resources such as the sun, water and wind are viable solutions to many problems but greedy elements that have yet to figure out a way to patent these resources are determined to keep the benefits of using these resources quiet to protect their own profits," says Adis P.
BestWaterHybrids.com features information, videos and products designed to present gas alternative solutions that are safe for drivers and the environment. For more information about how to save on gas and to purchase a do-it-yourself conversion manual or complete conversion kits for cars, SUVs, trucks, and semis, please visit BestWaterHybrids.com.
About BestWaterHybrids.com:
BestWaterHybrids.com and its sister company MachiningPartner.com possess a background in machining, engineering and information technology and are self-proclaimed environmentalists and activists. BestWaterHybrids.com works to educate consumers regarding how to save money on gas and offers cost-effective, environmentally friendly alternatives to traditional gas sources.
###