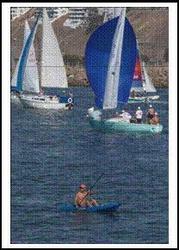 Marina del Rey, CA (PRWEB) June 17, 2008
From the sands of Venice Beach to the estuary where Ballona Creek meets the Marina Channel, visitors of Marina del Rey enjoy one of the few places in Los Angeles where a car is not needed to participate in an array of exciting activities that are all accessible on foot, by bike, public transportation or boat. Located just 10 minutes from Los Angeles International Airport, Marina del Rey features no less than six hotels near LAX in a compact 400-acre area packed with activities, restaurants and shopping.
"With more and more visitors concerned with rising gas prices, we wanted to remind people that there are still hotels near LAX airport where they can literally check in and enjoy their entire vacation while staying all in one area. Whether their vacation days are spent relaxing on Venice Beach, exercising on our many bike paths, or out on the water -- Marina del Rey offers it all," said Beverly Moore, of Visit Marina.com.
The Marina is easily accessible by all forms of public transportation from LAX including three major municipal bus lines -- Los Angeles' public Metro Bus Line, Santa Monica's Big Blue Bus, and the Culver City. Guests can also find airport shuttles, taxis, vans and private coaches that reach all Los Angeles airport hotels located in the Marina.
Once in Marina del Rey, visitors can use the Water Bus, a water shuttle which glides between six popular Marina locations including Dolphin Marina, Fisherman's Village and Waterfront Walk for just $1 per person each way. Another option is the free Beach Shuttle, which operates throughout the Marina in the summer on Friday, Saturday and Sunday and leaves 15 minutes after each hour. The Beach Shuttle also provides late evening service to the Marina's free summer concerts in Burton Chace Park and at Concert Park in Playa Vista.
For those looking for the Hollywood experience, there are several different tour companies that will pick up star seekers in the Marina and escort them into the throes of Hollywood for an up-close look at legendary homes and theaters. For an alternative to the Hollywood scene, guests can travel to beautiful Catalina Island via the Catalina - Marina del Rey Flyer, a high-speed catamaran shuttle.
"Marina del Rey has bike rentals, boat rentals, shuttle services and just about any other form of transportation a guest would need to enjoy the area. Many of our accommodations cater to guests looking for a relaxing and stress-free environment. We do everything we can to ensure their vacation is exactly as they had dreamed," said Beverly Moore.
For more visitor information, contact the Marina del Rey Convention & Visitors Bureau at 310-305-9545. For group information and travel trade, call 310-306-9900. More information is also available on line at http://www.visitmarina.com/.
###