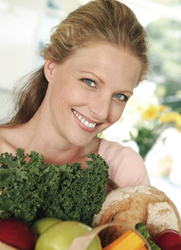 Besides hormone imbalances, many chronic health problems are primarily caused by the foods we eat, high levels of environmental pollution and a general lack of exercise
Boca Raton, FL (PRWEB) June 16, 2008
BodyLogicMD introduces a revolutionary new blood test giving patients a customized report on everyday foods that may be causing weight gain, chronic fatigue, cardiovascular disease, autoimmune diseases, and even cancer.
As a means to best diagnose and consult patients, BodyLogicMD introduces ALCAT Food Sensitivity Testing as part of its bioidentical hormone therapy, nutrition and fitness patient services.
"Besides hormone imbalances, many chronic health problems are primarily caused by the foods we eat, high levels of environmental pollution and a general lack of exercise," said Dr. Alicia Stanton, Chief Medical Officer of BodyLogicMD and hormone therapy expert. "While our primary focus is to balance our patient's hormone levels; the nutritional aspect plays a critical role in the overall success rate."
BodyLogicMD's ALCAT test is a convenient blood test that identifies any individual's unique reactions to commonly encountered foods, additives, environmental chemicals, common drugs, herbs, and other substances that cause biochemical imbalance.
"The report gives patients a specified list of "trigger foods" that may be part of their everyday diet and could be the cause of on-going health issues," said Stanton. "Food intolerances are different than food allergies and many traditional doctors are not aware of this type of medical technology."
After identifying a patients "trigger foods," the concept is to eliminate these foods on a special rotating diet and eventually introduce the foods back into the diet after a three to six-month period.
Health problems linked to food intolerance include:

Weight Gain and Weight Loss
Migraines
Aching joints
Fatigue
Chronic inflammation
Gastrointestinal disorders
Eczema
Asthma
The ALCAT Test identifies exactly which foods and chemicals are triggering each individual's problems. BodyLogicMD physicians offer three comprehensive lab panels that test over 250 foods, food additives, food colorings, environmental chemicals, and molds.
A recent book "Your Hidden Food Allergies Are Making You Fat!" profiled the ALCAT test. The book discusses the history, benefits, medical community support, patient success, and in-depth scientific studies including a reported 98 percent of participants in a Baylor Institute study who eliminated their trigger foods and lost weight, reduced their percentage of body fat and gained muscle tissue.
About BodyLogicMD:
With 20 locations nationwide, BodyLogicMD is a network of highly trained physician-owned practices specializing in natural bioidentical hormone therapy services integrated with fitness and nutrition. Featured as an expert source in Suzanne Somers recent book, "Ageless," BodyLogicMD physicians treat men and women suffering from hormonal imbalance, menopause and andropause.
For more information about BodyLogicMD, please visit http://www.bodylogicmd.com or contact Lisa Buyer at http://www.thebuyergroup.com.
Subscribe to the BodyLogicMD blog with weekly hormone therapy news and views at: http://bodylogicmd.wordpress.com/.
###