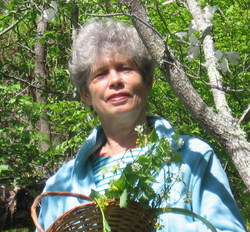 It's wonderful to walk the land ... getting fresh air, sunshine and exercise…just hiking the forest is Mother Nature's health club (Native Americans did the same) and I get to bring home supper without spending a penny
Clyde, NC (PRWEB) June 14, 2008
Nearby Asheville is reaching new heights as a center for alternative culture, including health, wellness and personal development with the announcement of Wellness Weeds fun-shop, all day workshop. On Saturday, June 28, 2008, Weed Lady will share her special approach to wildcrafting in her summer weed workshop. Mollie has an eye for both herb safety and nature conservation. Mollie keeps a sharp focus on protecting endangered plant species. Mollie Stolle will be sharing her secrets at an undisclosed location at the mountain's base of nearby Cold Mountain, North Carolina. With room left for just seven herb enthusiasts, the class includes a wild gourmet meal. Participants will be gathering their own lunch, the menu, not final yet, may include fresh Stinging Nettle pesto, Burdock drizzled with Chick Weed vinegar, savory soup of Yellow Dock, Poke Sallet with Chick Weed, Stinging Nettle tea and Dandelion wine but mother nature can offer up her own surprises all this, something different or much more.
Mollie Stolle and her students do find themselves eating well with an added benefit of saving money. "It's wonderful to walk the land ... getting fresh air, sunshine and exercise…just hiking the forest is Mother Nature's health club (Native Americans did the same) and I get to bring home supper without spending a penny," says Mollie. Her husband Bill Stolle, a Certified Public Accountant, says, "Mollie has saved us a bundle by gathering her herbs for supplements and wild foods, that saves on gasoline and a membership to health club." Stolle went on: "I crunched the numbers… it turns out Mollie saved us $3,722.37 last year alone, this year we'll save even more… if I factored in no doctor visits those numbers could skyrocket." Mollie has been foraging for herbs for 12 years and may have saved her family a small fortune.
More and more folks are discovering the mind-set of abundance, getting free, delicious, and nutritious food. What you get from nature's cupboard is many times more nutritious than anything you get at a grocery store. "Unfortunately, most refer to these treasures as weeds! I call them wonders." Says Mollie, "In all tests I know, wild edible plants are rated much higher in vitamins and minerals than commercially produced food. Local plants are much more beneficial for your health."
Weed lady goes on: "My favorite because this is a most nutritious plant, the Stinging Nettle. Nettle nourishes every cell in your body. This wild herb is also one of the most delicious. You can eat her raw (after you disarm her sting), cook her or make a nutritious tea. You could literally live off just Nettles."
On Saturday, June 28, 2008, select applicants can discover weed eating, grubbing and foraging as a real life wild crafter. Weed Lady's Harvest class, will not overwhelm a new student with huge numbers of edible plants and herbs. Mollie chooses to focus on a lower but still fairly good number of readily found and easily identifiable plants for her foraging classes. This increases a new student's confidence and starts them properly. Taraxacum officianles, Stellaria media, Urtica and Laportea sounds a bit scary but there's only a little talk of genius and species her class will focus on discovery and the joy of learning.
For a limited time, Weed Lady Mollie is offering her herb guide with recipes at no cost, including her favorite selections of native plant recipes, allowing you a taste of weed eating right out of your kitchen. Her gourmet recipes are sure to surprise and delight even the most discerning. Get Weed Ladies Wildcrafting Guide including Wild Recipes by calling a toll free number with a recorded message and then leaving your address call: 1-800-380-8152
About Mollie Stolle
Mollie Stolle, herbalist and "the weed lady," became fascinated with Western North Carolina's medicinal edible plants from the moment she was stung by stinging nettles sixteen years ago. Incidentally, nettles became her favorite plant.
Mollie completed study with herbalist Peggy Ellis and has studied with numerous other herbalists.... For the past seven years she has participated in the "Medicines for the Earth" conference with presenters from all over the world. Her primary interest for most of her life is Holistic Health. Her goal is to help others become their own herbalist. Mollie would like others to know how very notorious and healing are our local herbs. She believes like Hippocrates, "Let your food be your medicine and your medicine be your food". She takes no supplements and relies on nutritious teas and vinegars made from her 'weeds'. She believes maintaining a positive-joyful attitude is the most important factor in creating wellness. Mollie taught kinder garden for many years and likes to present some of the herbal information in the manner in which she taught children hands-on and with occasional songs
Mollie Stolle is one of the Carolinas' leading herbalists and wild crafters and she has been teaching wildcrafting and herb lure in her wellness weeds, weed-shop workshops for nine years. Mollie is a one-stop resource in North Carolina's richly abundant mountain regions for wildcrafting, preserving, preparing herbal remedies and growing organic herbs. When Weed Lady Mollie Stollie is not stalking a wild stinging nettle she can be found on the web at: http://www.WellnessWeeds.com.
# # #