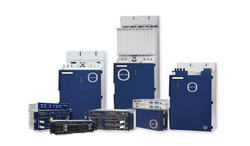 The new XDM optical features demonstrate our commitment to the advancement of optical networking. We give service providers the tools to considerably reduce response time for delivery of new revenue-generating services while eliminating the need to redesign part or all of a network, reducing both OPEX and CAPEX
Petah Tikva, Israel (PRWEB) June 16, 2008
ECI Telecom, a global provider of networking infrastructure solutions, today announced several new key optical capabilities for its XDM® optical networking platform in line with the 1Net framework as announced earlier this year. By introducing a new 2-degree (2D) ROADM, ECI brings end-to-end flexibility to carrier networks, reducing overall costs by eliminating back-to-back regeneration and enabling carriers to increase revenues by significantly improving response time for deployment of new services. The new 2D ROADM was cost-efficiently designed for metro-core and metro-edge segments, and complements ECI's leading best-of-breed multi-degree WSS ROADM. The new ROADM is optimal for sites with lower degree needs, or requiring full add/drop capability.
An additional feature introduced today is the multi-service, multi-rate ADM-on-Card (AoC). The AoC is a next-generation optical service card, combining the cost-efficiency of an optical platform with the granularity and flexibility previously available in SDH/SONET networks. The AoC leverages the high-capacity and scalability of the OTN layer and the advantages of SDH/SONET-like networks, without an actual SONET/SDH matrix. ECI's AoC offers the industry's highest density on a single card. Among its many benefits, the AOC is particularly optimized for video applications, featuring multicast drop-and-continue capabilities.
These features are part of ECI's recently announced 1Net framework. ECI 1Net is committed to offer carriers lower total cost of ownership and increased revenue opportunities, while facilitating the transition to next-generation networks.
"Today's competitive environment is putting extreme demands on carriers, who are striving for increased revenues and lower costs," said Eve Griliches, Telecom Equipment, IDC. "Having an edge-to-core ROADM portfolio with high-density cost-optimized service cards allows ECI's customers to be very competitive. These new enhancements reinforce ECI's commitment to its customers and its growing position in the optical market."
With improved end-to-end planning tools, operators are able to easily design and optimize their networks, dramatically reducing response time in any necessary redesign of the network. These new features work in concert with ECI's leading LightSoft® Network Management System. ECI's LightSoft multi-layer approach allows carriers to manage all technologies and network segments using a unified and centralized system, resulting in both capex and opex savings.
"The new XDM optical features demonstrate our commitment to the advancement of optical networking. We give service providers the tools to considerably reduce response time for delivery of new revenue-generating services while eliminating the need to redesign part or all of a network, reducing both OPEX and CAPEX," said Oren Marmur, Vice President of Optical Networking Line of Business of ECI Telecom. "With networks becoming increasingly complex, ECI brings innovations that ease and simplify the management and evolution of these networks to meet new market and end-user demands."
For more information, visit the XDM optical page.
About ECI Telecom
ECI Telecom Ltd. delivers innovative communications platforms to carriers and service providers worldwide. ECI provides efficient platforms and solutions that enable customers to rapidly deploy cost-effective, revenue-generating services.
Founded in 1961, Israel-based ECI has consistently delivered customer-focused networking solutions to the world's largest carriers. The Company is also a market leader in many emerging markets. ECI provides scalable broadband access, transport and data networking infrastructure that provides the foundation for the communications of tomorrow, including next-generation voice, IPTV, mobility and other business solutions. For more information, please visit http://www.ecitele.com.
Certain statements contained in this release may contain forward-looking information with respect to plans, projections or future performance of the Company. By their nature, forward-looking statements involve certain risks and uncertainties including, but not limited to, product and market acceptance risks, the impact of competitive pricing, product development, commercialization and technological difficulties as well as other risks.
# # #