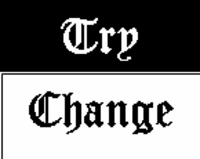 In a time when change happens very quickly we must be ever vigilant to make it positive, productive change. We are responsible for the future. Thank you, Try Change for your encouraging message for our community
Woodbridge, VA (PRWEB) June 16, 2008
Try Change LLC, one of Northern Virginia's newest companies, has announced the launch of their new line of t-shirts at the Fashion Mechanics store in the Potomac Mills Mall in Woodbridge, VA on Saturday June 28, 2008 from 3 p.m. to 5 p.m. The launch will coincide with a remote broadcast by one of areas top radio stations WKYS 93.9 FM at Fashion Mechanics.
Try Change T-Shirts will also be available at Fashion Mechanics' two other locations in the Manassas Mall and Springfield Malls of Northern VA. You can also find the shirts at the Capital Grind store in the Landmark Mall the 2Excess store at the Springfield Mall, Shadows at the Forestville Mall in Maryland, Indigo in Georgetown, and at selected Sport Zone and Changes stores in the DC, VA and MD areas.
What started as an idea to sell a limited amount of individual t-shirts via the web has now grown to a full t-shirts company with shirts in 20 locations and a blog community with over 500 members. Founded in 2007, Try Change's goal is to inspire others to make positive changes that benefit not only themselves but society as a whole. They have inspirational t-shirts of which a percentage of all proceeds go to Volunteers of America Chesapeake. Founded in 1896, VOA Chesapeake operates over 23 programs that serve the homeless, mentally ill, developmentally disabled, ex-offenders, substance abusers, the elderly and children.
"We at Try Change feel an obligation to spread hope, faith, peace, diversity, and positive change to as many people as possible through the sale of our shirts and the stories and charitable organizations we share on our Website and blog," said Vincent Stubbs, company founder.
At http://www.trychange.org, you can read what prompted Vince Stubbs to develop this company in his spare time and forums where you can post your story of change and positive message that you would like to share with others. "It is our hope that people will share what has inspired them with others and spread a message of hope," said Chrissie Ksanznak, vice president of Try Change.
For a video with more information on Try Change, please visit http://www.youtube.com/watch?v=zheslNRBrxc.
About Vince Stubbs:
Vince Stubbs, who resides in Woodbridge, Virginia, holds an Associate Degree from Bergen Community College. In 2007, Stubbs was elected president of the Greater Springfield Chamber of Commerce. Currently Vince is Corporate Director of Sales and Marketing for Coakley Williams Hotel Management Company. He also supports the Hilda Barg Shelter in Woodbridge VA that is operated by Volunteers of America Chesapeake of which Try Change is a partner of.
About Volunteers of America:
Founded in 1896 by social reformers Ballington and Maud Booth, Volunteers of America is a national, spiritually based organization providing local human service programs and opportunities for individual and community involvement. From rural America to inner city neighborhoods, Volunteers of America provides outreach programs that deal with today's most pressing social needs. Volunteers of America helps youths at risk, frail elderly, abused and neglected children, people with disabilities, homeless individuals, and may others. Now in their second century of service, Volunteers of America is one of the nation's largest and most comprehensive human services organizations, touching the lives of nearly 1.8 million people each year in communities across the United States.
"In a time when change happens very quickly we must be ever vigilant to make it positive, productive change. We are responsible for the future. Thank you, Try Change for your encouraging message for our community," said Nancy-Jo Manney, executive director of the Greater Springfield Chamber of Commerce.
For more information on Try Change visit http://www.TryChange.org or email them at trychange @ aol.com. Try Change LLC President Vincent Stubbs can also be reached at 703-261-7099.
###