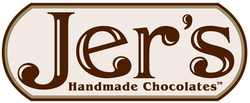 Many customers, both retailers and direct consumers, have requested that Jer's make a snack item that would allow them to eat the award-winning peanut combinations without having to purchase a gift box. Thus, Jer's has raised the bar with its premium chocolate peanut butter bars
Solana Beach, CA (PRWEB) June 16, 2008
In response to the fanatical following of customers that have fallen in love with the taste and story of Jer's award-winning handmade chocolate peanut butter balls, the Company has now created bars that can be enjoyed as an everyday treat. The new Jer's bars will be featured at the 54th Annual Fancy Food Show in NY, June 29, 2008 to July 1, 2008 at the Jacob K. Javits Convention Center. Jer's will be exhibiting at booths 746/748.
Recent Fancy Food Shows have attracted from 19,000 to 32,000 attendees who see more than a thousand exhibitors from around the world, presenting more than 100,000 specialty foods to discover and sample. An impressive 87% of all attendees either authorize or recommend purchasing decisions.
"Many customers, both retailers and direct consumers, have requested that Jer's make a snack item that would allow them to eat the award-winning peanut combinations without having to purchase a gift box. Thus, Jer's has raised the bar with its premium chocolate peanut butter bars," said Jerry Swain, founder of Jer's Handmade Chocolates.
Although the appearance has changed, the new bars will still have the same attention to detail--handmade in small batches to ensure freshness and quality. Jer's was the pioneer in using all natural organic peanut butter and premium ingredients, which has established its award-winning taste. Peanut butter chocolate combinations include caramel, toffee, pretzel and crisp. The bars will be available to retailers in July.
About the Annual Fancy Food Show
The National Association for the Specialty Food Trade (NASFT®) has sponsored and produced the high-profile, well-attended International Fancy Food & Confection Shows® since 1955. The shows are well-funded, aggressively marketed, and highly regarded by attendees and exhibitors alike.
About Jer's Handmade Chocolates
Jer's Handmade Chocolates is based in San Diego County and has pioneered their decadent gourmet peanut butter confections. It is a privately held company, and for five years has been successfully supplying both large and small retail and distribution channels with a gourmet product that has great appeal to the significantly growing gourmet chocolate appetite. Their current (and growing) mix includes 11 gourmet peanut butter varieties including: Original IncrediBall™, Pretzo Change-O™, Cara Mella™ and Toffee Break™. Jer's Peanut Butter Confections in the Gourmet Collection to date have earned four International Awards.
About Jerry Swain
In 2001, Jerry Swain left his comfortable and successful career path at major corporations to turn his special recipe for peanut butter and chocolate confections into a business venture. During his corporate stint, once a year Jerry hosted a fundraising chocolate party raising funds and canned goods for the local food bank. He took a risk, and his dream of sharing his recipe with others is definitely being fulfilled. His gourmet confections have been voted "Best of Show" by his peers from more than 700 confectionary companies throughout the world. His products, story and charitable giving have also been featured on the Food Network.
For more information on Jer's Handmade Chocolates, please call (800) 540-7265 or visit Jer's website at http://www.jers.com.
###