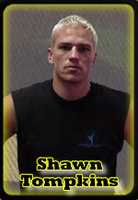 All we can say for now is, it will be a suitable opponent.
Las Vegas, NV (PRWEB) June 18, 2008
Shawn Tompkins to fight for the Xtreme Fighting Association (XFA).
Shawn Tompkins is originally from Ontario, Canada, where he ran Canada's most successful MMA gym for over 10 years, Team Tompkins Muay Thai & Submission. He now lives in Las Vegas, Nevada and is the Head Trainer and Gym Manager of the Xtreme Couture gym, where he trains elite professional athletes, including MMA World Champion Randy Couture and many of the top MMA fighters in the world. Previously he was the Head Striking coach for Team Quest and their leader Dan Henderson. Shawn has trained fighters such as Randy Couture, Wanderlei Silva, Forrest Griffin, Kimbo Slice, Sam Stout, Dan Henderson, Chris Horodecki, Kendal Grove, Kevin Randelman, Phil Baroni and many many more, including 10 national and international champions.
As a fighter Shawn Tompkins has held 3 titles in the Thai Boxing world where he fought 47 professional fights with 43 wins. He has created such fighting champions and superstars as Mark "the Machine" Hominick, Sam "Hands of Stone" Stout and Chris "the Polish Hammer" Horodecki.
Developing his system through the foundation of the Bas Rutten Mixed Martial Arts System and has been the official Head Coach of the IFL's Los Angeles Anaconda's. The style of striking and game plans that Shawn Tompkins has put together for Mixed Martial Arts has made him one of the most sought out MMA trainers in the world and in 2007 was voted trainer of the year.
"We are absolutely thrilled to have Shawn join the XFA. He is widely respected throughout the MMA world internationally, as well as in the Muay Thai and Kickboxing community for his character and commitment to professionalism. He is exactly the kind of person we want representing the XFA," said Christopher Reis, President of the XFA. "With Shawn leading the way we believe additional elite athletes will be joining the XFA."
Shawn is known as a fierce competitor that has never refused a fight challenge, never backs up and never backs down and has competed all over the world.
"The XFA is a great place for me to get back in the ring. I love stand up fighting and have gotten to know and admire the XFA owners. They put the fighters first and have created a platform for all stand up fighting disciplines," said Tompkins. "The XFA has a very professional approach, which lifts the sport's credibility with mainstream audiences, corporate sponsors and network TV. I hope to have many fights with the XFA."
"There's a lot of speculation already building about who Shawn will be matched up with when he makes his XFA debut this fall," said Reis. "All we can say for now is, it will be a suitable opponent."
About The Xtreme Fighting Association (XFA):
Reis Sports Entertainment, LLC (RSE) is a Professional Martial Arts Promoter licensed by the Nevada State Athletic Commission. RSE created the sports brand, the Xtreme Fighting Association TM (XFA) which holds regular events in Las Vegas, Nevada. For more information on XFA visit: http://www.XFAlive.com
For the latest news on Shawn Tompkins visit: http://xtremecouture.wordpress.com/category/shawn-tompkins/
To see an Interview of Shawn Tompkins: http://fiveouncesofpain.com/2008/03/13/inside-xtreme-couture-w-shawn-tompkins/
###