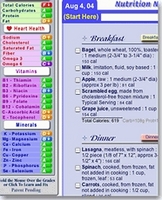 Lake Worth, FL (PRWEB) June 18, 2008
MyBodySite.com, the rapidly growing social network for weight loss and fitness has announced the launch of The Nutrition Solution, an easy to use meal planning software. The Nutrition Solution is a unique and fun approach to meal planning that lets women and men plan balanced meals based on their own favorite foods.
The patent-pending nutrition engine behind The Nutrition Solution provides a unique and powerful tool to help everyone, from beginner to advanced athletes, get in better shape easily by eating the right foods in the right amounts, to meet their weight loss, muscle building and sports based goals. All of the Nutritional requirements used in the Nutrition Solution are based on standards defined by the Institute of Medicine of the National Academies of Science.
We are very excited to provide a meal planning and nutrition software that does everything for the user and makes eating right easy. Best of all, The Nutrition Solution does all of the work for you and lets you eat all of your YOUR favorite foods. "Most people find it hard to eat right and keep track of what they eat, because they don't know what 'eating right' means and they don't want to spend all of their time counting calories, points and grams. The Nutrition Solution solves those problems by making it fun and easy to eat the right foods and keep track of it in a simple to use interface."
The timing of MyBodySite.com's launch of the program was meant to help people get and stay in shape for summer. During the warmer months, women and men want to look their best but also find it difficult to eat right when they are attending parties, eating out and making the most of the season. The Nutrition Solution enables the users of MyBodySite.com to plan what to eat in just a few clicks and make good food choices even when they are on the go, at the pool or joining friends and family at their next barbecue. Combined with MyBodySite.com's already active social network, The Nutrition Solution provides all of the support people need to meet their goals.
One of the chief complaints about dieting is the complicated calorie counting and food tracking that most "diets" require. It's also difficult to fit "diet foods" into a normal lifestyle, especially during the summer. The Nutrition Solution is not a "diet" but a program that allows users the flexibility to eat all of their favorite foods without all of the fuss of keeping track of it. With just a few clicks of the mouse, users can plan their day or their week and The Nutrition Solution keeps track of it all. The software keeps track of calories, fat, carbs, protein, vitamins and minerals. More information is available at http://mybodysite.com
About MyBodySite.com
MyBodySite was founded in 2006 by John Cummings and Ken Esposito as a social network for the general discussion of health and body issues. Building on a specific passion for health and fitness and a desire to bring people together, John and Ken re-launched MyBodySite as a fitness social network in 2008. For more information, visit MyBodySite.com or email [email protected]
Any Inquiries may be directed to John Cummings at 561-254-9185 or by emailing info @ mybodysite.com.
###