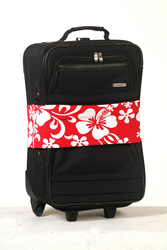 Scottsdale, AZ (PRWEB) June 17, 2008
Travel isn't getting any easier except for one bright spot called a Luggage Hugger. Divorced and left with nothng but optimism, Lucia Burns, inventor and mother of two sons, spotted an opportunity when planning a trip. After buying new black luggage she realized if it was the only bag on the carousel she still wouldn't recognize it as her own.
Then the inspiration for a wide, colorful, spandex ID band was conceived. Now Luggage Huggers offer the travel world a little bit of fun back and the effortless ability to ID your bags from way across the airport or cruise ship with this innovative new product. Made from Spandex, Luggage Huggers stretch around your suitcase to add style and function. Luggage Huggers unify group travelers and offer unique advertising opportunities with embroidery or custom print for eye catching world wide repeat visibility! Luggage Huggers are available in ever changing colors and styles.
Developed after overcoming a fear of flying this cheerful product puts a spot of happy back in travel. Lucia Burns and Luggage Huggers were featured on CNBC's The Big Idea with Donny Deutsch.
For more, please visit http://www.myluggagehugger.com.
###