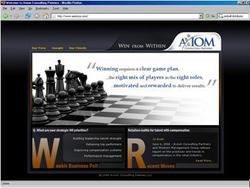 Axiom is delighted to be releasing this important piece of thought leadership
Chicago, IL (PRWEB) June 17, 2008
Axiom Consulting Partners LLC announced today that it has released the fifth in its series of 'Winning Axioms' titled 'Compensation Market Practice is not Best Practice; Improve your ROI with A-Pay'.
Axiom was founded in 2005 on the premise that there are certain self-evident truths in business to which companies should pay close attention if they are to be successful in today's competitive environment. These self-evident truths (or axioms) are applicable in virtually all industries and companies, regardless of their size.
The Winning Axioms provide senior executives and leaders with insights and ideas that can be applied to help their organizations deliver superior results. Winning Axiom #5 highlights that employers throughout the United States are paying a high price for a phenomenon called "compensation averaging" where market pricing has become the key driver in setting job values, ignoring important, business specific criteria and differences. Axiom's alternative approach called "A-Pay" yields a higher return on compensation and results in pay levels that are both externally and internally competitive, aligned with business strategy and consistent with the new world of governance best practices.
"Axiom is delighted to be releasing this important piece of thought leadership" said Steve Strelsin, President – Axiom Consulting Partners. "In today's era of economic uncertainty, it is imperative for organizations to maximize the productivity of their compensation dollars. The 'A-Pay' approach is designed to do just that."
Winning Axiom #5 is available at 'Compensation Market Practice is not Best Practice; Improve your ROI with A-Pay'.
About Axiom Consulting Partners
Axiom Consulting Partners is a management consulting firm that specializes in hardwiring people to business strategy to deliver improved performance and results. Axiom asks the right questions to uncover and remove disconnects that commonly exist among the boardroom, middle management and front line employees. Axiom's Partners generate insights and develop recommendations for their clients that have a quantifiable business impact.
Media Contact:
John Whelan
Director, Market Development
161 N. Clark Street, Suite 4700
Chicago, IL 60601
(312) 523-2090
e-mail protected from spam bots
http://www.axiomcp.com
This press release was distributed through eMediawire by Human Resources Marketer (HR Marketer: http://www.HRmarketer.com) on behalf of the company
listed above.
###