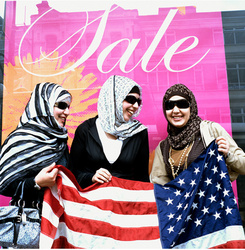 Explore Europe with the American flag and investigate how the international community views America in the 21st Century.
New York, NY (PRWEB) June 19, 2008
The flag speaks volumes to the countless Americans born and bred on American soil as well as those naturalized citizens in pursuit of the American dream. In the midst of the controversial history that is America, in light of the political stumps from the depths of the south to the mountaintops of the north, nothing screams patriotism more than the American flag: The heart of Americans. So, what does the rest of the world feel about America and her flag? Over the past eight years this question has challenged the nation. Photographer Lauri Lyons has answered the call with her riveting new book and film titled, Flag International.
Lyons explains, "After the publication of my first book Flag: An American Story (2001), which documented how Americans viewed themselves, many people asked me to follow up with the people in the book and find out if their thoughts about America had changed after 9/11." Instead, with her camera still in hand, Lyons ventured out to do what no other photographer had done before. Taking full advantage of the role the Bush administration has played since 9/11 not only in America, but internationally, Lyons packed her bags and decided to create her own exploratory committee on America. Lyons goal as she explains it was to, "Explore Europe with the American flag and investigate how the international community views America in the 21st Century."
Lyons courageously ventured out into a volatile political landscape. Uncertain of exactly how safe it was to ask foreigners about America, much less convincing them to take a picture with the beloved flag, Lyons successfully traveled throughout Ireland, England, Holland, Belgium, France, Germany, Italy, and Spain photographing, interviewing, and filming strangers along the way.
Flag International offers a fresh perspective on how foreigners view and define America. Despite the political hype of the presidential candidates, and foreign policy issues, Lyons captured the heart of America in the hands of foreigners from all walks of life and all religious backgrounds.
It is the unlikely story that one would not expect to see. Flag International grabs hold of a diverse group of people linking one to the other with the red, white, and blue, thus, creating a dialogue about cultural understanding within a global framework. Graffiti artists, Holocaust survivors, Iraqi women, street vendors, a Pulitzer Prize author, and everyone in between gave Lauri Lyons a piece of their mind while holding Old Glory.
Flag International also provides a view of a new Europe which has become increasingly multicultural due to a large increase in immigration. What was once a homogeneous continent has now become its own melting pot of ethnic groups, religions, and languages. Lyons says, "I could not help but to wonder how the new Europe will deal with the same old challenges facing America such as nationalism, immigration, racism, fundamentalism, and apathy." With open arms she was welcome to ask her subjects these very questions, thus allowing them to write their opinions, their feelings, their doubts, their love, their hate and their beliefs about what America is culturally and politically.
"It is a challenge to singularly define America because the country reinvents itself on a daily basis. Growing up I have been able to view America from several perspectives: Black, female, first-generation American, and a former military child. Always being on the move has made me curious about how people come to formulate opinions about themselves and others," explains Lyons. Foreigners stand from a distance quietly watching America redefine herself as she rewrites history. When looking through the book, foreigners living in Europe offer lighthearted humor and candid honesty about the state of the union as they see it.
Click here to view the Flag International Pod Cast: http://www.laurilyons.com/flag_international
Flag International (Blurb) 136 pages with color photographs, handwritten text and English translations. ISBN: 9780615215457
Lauri Lyons served as a Photo Editor for Magnum Photos, the Source, B.E.T, and Essence magazine. She has photographed essays in Brazil, Europe, Mexico, West Africa, and the
United States. Lyons is a faculty member for the International Center of Photography and the Rhode Island School of Design. Lauri Lyons previous book is Flag: An American Story (2001).
For more information about Lauri Lyons or to purchase Flag International visit http://www.laurilyons.com
Contact:
mediapresence@gmail.com for press requests.
# # #