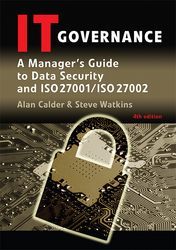 We anticipate lots of questions and better insight into our findings as a result of releasing our books this way
Ely, England (PRWEB) June 19, 2008
Information security gurus from IT Governance will be hosting a special online e-book 'signing' on the 25th June to highlight their latest findings in core issues around governance and data protection.
The book signing is a world first, transferring the intimacy of a meeting with an author at a signing to a highly interactive, multi-media, global event. IT Governance's Alan Calder and Steve Watkins, the authors in question - already enjoying international reputations in their field - will be available to a global, live audience to discuss the main findings of the fourth edition of their classic IT Governance: a Manager's Guide to Data Security and ISO27001.
"We anticipate lots of questions and better insight into our findings as a result of releasing our books this way," predicts Calder, who is also Chief Executive of IT Governance.
"The event is a way of interacting with the business community in a very direct, one-to-one way that one might expect on a physical signing tour."
The e-signing will be supported by a free webinar and online Q&A session on the research. Additionally, for a limited period, any copies purchased online during the event will be personally autographed by the acclaimed information security authors.
Calder and Watkins have written extensively in the field of information security, risk management, compliance and IT governance. This, the fourth edition of their core guide to these issues, has been newly updated and e-enabled. For several years, IT Governance: a Manager's Guide to Data Security and ISO27001 has been a standard text for postgraduate courses in the subject at The Open University and other academic institutions. The book has also become the de facto standard text on designing and implementing an information security management system conformant with international standard ISO/IEC27001.
IT Governance has taken the step of raising awareness of the latest edition's findings in response to growing concerns in the user community about information compliance. "Many small companies in particular are not sure whether they are compliant with legislation like the Data Protection Act," warns Calder. "Too often, they are unsure where to start - so this event is a great opportunity to get answers to central questions and acquire an up-to-date picture of the world of IT governance, information security and data protection."
"It's a unique event, saving time and offering a lot of value add for busy managers looking into these problems."
To register for the event go to http://www.itgovernance.co.uk/worldwide-book-signing.aspx
IT Governance: A Manager's Guide to Data Security and ISO 27001/ISO 27002 is priced at £45.00/$89.10/€58.50 and is available in soft cover (ISBN 978-0-7494-5271-1). To purchase a copy, visit http://www.itgovernance.co.uk/products/4.
NOTES TO EDITORS
IT Governance Ltd is the one-stop shop for books, tools, training and consultancy for Governance, Risk Management and Compliance. It is a leading authority on data security and IT governance for business and the public sector. IT Governance is 'non-geek', approaching IT issues from a non-technology background and talking to management in its own language. Its customer base spans Europe, the Americas, the Middle East and Asia. More information is available at http://www.itgovernance.co.uk.
To view all the latest IT Governance news click here.
###