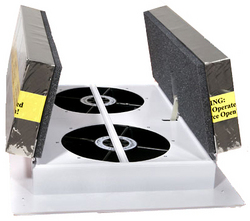 Many homeowners in the Northeast and the Mid-West will find that the HV fan can replace the need entirely for air conditioning
Waterbury, VT (Vocus) June 18, 2008
As most of the United States suffers through an unprecedented early season heat wave, many homeowners are looking for an energy efficient alternative to cooling their homes. The fact that these record temperatures are starting well before the summer officially begins is bringing much cause for concern to many "sticker shocked" consumers who just spent more on home heating last winter than ever before. Houseneeds.com, The Vermont based Internet provider of energy efficient, environmentally friendly heating, cooling and ventilation products, has a solution: The HV Series Whole House Fans made by Tamarack Technologies.
The Tamarack HV1000 and HV1600-G are an original design in whole house cooling fans. Engineered to reduce indoor air temperature, the HV pushes the hot air out of the house through the attic and replaces it with cooler outside air. The HV utilizes twin, high-tech, super efficient fan motors to minimize noise and power consumption. The system has the industry's only automatic door assembly, providing an air-tight seal with an insulating value of R-22.
"Many homeowners in the Northeast and the Mid-West will find that the HV fan can replace the need entirely for air conditioning," according to Gary Johannesen, Director of Sales for Houseneeds.com. "In the South and other warmer climates, when used in conjunction with A/C, homeowners can expect to save up to 30% on their cooling costs."
Houseneeds.com is well stocked on all Tamarack Whole House Fan models and can usually ship the same day. As an added pre-summer incentive for homeowners, Houseneeds.com is offering free shipping on all HV1000 units and remote control kits for a limited time only.
For more information on these units including the complete technical specifications and pricing, go to:
http://www.houseneeds.com/shop/vent/tamarack/tamarackhvhousefansmain.asp
###