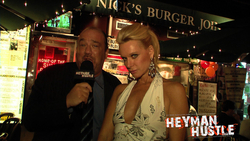 Step forward and say Leave Tricia Alone!
London, UK (PRWEB) June 17, 2008
Tricia Walsh Smith has publicly called for Senator Hillary Clinton and talk show entrepreneur Oprah Winfrey to take up her cause in the newest round of controversy from the YouTube Divorce superstar.
The UK-born actress/playwright became a global sensation when she posted videos on YouTube describing her problems with soon-to-be-ex husband, New York theatre impressario Phillip Smith. Now she wants powerful women like Hillary and Oprah to "Step forward and say Leave Tricia Alone!"
Walsh-Smith made the comments during an interview with Paul Heyman on the HEYMAN HUSTLE program, which airs every Tuesday on the UK's SUN-TV as the flagship show for NewsCorp's new broadband network.
Hustle director/producer Mitchell Stuart commented, "Paul asked Tricia where she'd like to go for dinner. Of course she was looking to dine on escargot at Le Cirque, or sample some caviar at The Russian Tea Room, or perhaps even partake of some sushi at Nobu. But Paul knows New York like no other person in the universe, and so he insisted Tricia learns how the other half lives - taking her to his favorite burger and pizza joint for some cheeseburgers, pepperoni pizza, and French fries!"
Wait a minute. One of Manhattan's most prominent socialites slamming down some grub at a burger and pizza joint?
Stuartl continues: "Paul wanted to see if the matron of hoitee-toitee society would let her guard down and just enjoy some really delicious common-people food ... and she loved it!"
You can see the entire controversial episode of THE HEYMAN HUSTLE, including a raunchy tale of Tricia performing a burlesque show one night, at this link: http://thesun.co.uk/sol/homepage/sport/wrestling/heyman/article1302305.ece
Previous episodes of the Hustle featuing Danity Kane's Aubrey O'Day; Ice-T and Coco; Donald Trump; Gossip Girl's Taylor Momsen; rocker Cisco Adler; Guns n Roses bassist Duff McKagan; supermodels Lydia Hearst and Susan Holmes; the cast of Jackass; Jeremy Piven; James Lipton; and former Minnesota Governor Jesse Ventura are available at http://www.heymanhustle.com
"The Heyman Hustle", is a weekly show produced by former WWE and ECW writer/producer Paul Heyman and hi-def pioneer Mitchell K. Stuart that has been described as "unparalleled in broadband entertainment" by The American Chronicle. Airing exclusively on SUN-TV, the Hustle is the single most popular show on NewsCorp's new broadband television network.
###