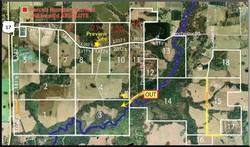 This land track is spectacular
Arcadia, FL (PRWEB) June 18, 2008
Higgenbotham Auctioneers International (HAI) announced today that their firm has been retained to offer at auction a expansive 4500± acre land track just north of Arcadia on State Road 35(US 17). Offered in 22 parcels with four parcels offered absolute to the last and highest bidder the parcels range from 54± to 457± acres. These tracts appeal to a wide variety of end users or developers.
The auction will be held at the Turner Agri-Civic Center located at 2250 NE Roan Street, Arcadia, FL on June 27th at 11:00am. The auction will be simultaneously broadcast over the Internet with live bidding available for buyers that cannot attend the auction in person. The property may be previewed on Saturday, June 14th from 9:00 AM - 2:00 PM and Saturday, June 21st from 9:00AM - 2:00 PM.
"This land track is spectacular," stated Laura Whitt a business development specialist for HAI. "The potential here is amazing. Currently the land is used for cattle operations, income producing citrus groves, sod harvesting and is renowned for its excellent hunting." She continued, "The tract features more than a 1-1/2 miles of frontage on US 17 and nearly 3 miles of frontage on Sweetwater Road. We have been advised that the Florida Department of Transportation preparing to expand this section of the highway thus making it a major North-South artery, the potential for growth along this corridor is explosive," Whitt concluded.
Both Hardee and Desoto counties have witnessed steady growth as the once much maligned US 17 has been upgraded to a four lane highway. Major chain hotels and eateries have been taking root in the area.
Proximity to both Wauchula and Arcadia exponentially multiplies the properties potential as a residential development tract. Whether designed as mini ranches, home sites or as a multi-use development. Add to this the fact that Charlie Creek meanders through the middle of this large land tract with more than 4.5 miles of navigable waterway making this site a developers dream.
Parties interested in bidding on this property should contact HAI immediately to receive property, auction and due diligence information, including taxes, zoning, title report, etc.
About Higgenbotham Auctioneers
Founded in 1959, Higgenbotham Auctioneers International (HAI) utilizes the auction method of marketing to sell real estate throughout the United States and the world. Higgenbotham's success is attributed to the company's stellar track record in marketing unique properties and the firm enjoys continuing relationships with Fortune 500 clients such as Alcoa, Wal-Mart, and Albertson's Supermarkets, as well as many publicly traded and closely held companies.
For more information on the 4500± acre property please contact Laura Whitt at Higgenbotham Auctioneers (800) 257-4161 or visit our website at http://www.Higgenbotham.com.
# # #