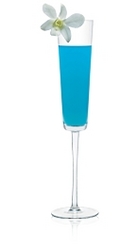 New York, NY (PRWEB) June 18, 2008
With the weather warming up, it's time to wind down and cool off. Instead of spending time mixing complicated cocktails, allow thebar.com, your one-stop drinks recipe resource, to help you master your own mixology. Whether you are planning a beach party, enjoying a summer night get-together, or prepping for July 4th festivities - thebar.com simplifies and inspires delicious drinks menus.
When sorting out those summer plans, fear not that you'll fall upon a lack of impressive drink ideas, as thebar.com offers a wide variety of recipes featuring the tastiest premium spirits. Want to keep it classic with a Sparkling Sangria Blanca? Or, would you rather test the waters with a cocktail you've never tried, like a Ciroc Blue Ocean? At thebar.com, you'll find these options, and everything in between, complete with easy-to-follow recipes.
While at thebar.com, make sure to check out the Summer Parties page for full tips on throwing a great summer party that's fun for everyone. Don't forget about the designated driver or those who may not want an alcoholic beverage, and serve up some tasty non-alcoholic recipes, such as the Ginger Lime Ade. You'll also find perfect food pairings with appetizing recipes sure to impress your guests.
No matter how hot the temperature gets, rest assured your drinks will be no sweat. Have a hand at whipping up some of these summer recipes:
Sparkling Sangria Blanca
Ingredients

1.5 oz. Stirrings White Sangria Cocktail Mixer
1.5 oz. Moet & Chandon champagne (or other sparkling wine)
1 slice peach
Preparation

Simple combine Stirrings White Sangria Cocktail Mixer with Moet & Chandon champagne(or other sparkling wine) in a champagne glass
Garnish with fresh sliced peach
Alcohol content: .18 fl oz.
Ciroc Blue Ocean
Ingredients

1 oz. Ciroc Vodka
0.5 oz. blue curacao
0.25 oz. grapefruit juice
Splash simple syrup
Preparation

Shake with crushed ice
Strain into champagne flute
Garnish with orchid or other exotic flower
Alcohol Content: .55 fl oz.
Ginger Lime Ade
Ingredients

6 oz. Stirrings Clarified Key Lime Juice
1 liter lemon-lime soda
1 thump peeled and sliced ginger
Preparation

Add Stirrings Clarified Key Lime Juice to a blender
Add peeled and sliced ginger
Mix on medium speed for 30 seconds
Strain well into lemon-lime soda
Serves 6
Still itching for more ways to interact with thebar.com? Watch our resident master mixologist, Jack Parker, on YouTube.
About TheBar.com
TheBar.com was created by Diageo, the world's leading premium drinks business with an outstanding collection of beverage alcohol brands across spirits, wines and beer categories. TheBar.com is Diageo's showcase destination for special offers, events and info from some of the world's favorite spirits, beer and wine brands, including Crown Royal® blended Canadian whisky, Johnnie Walker® blended Scotch whisky, Jose Cuervo® tequila, Captain Morgan® Original Spiced Rum, Smirnoff® vodka, Guinness® stout and Sterling Vineyards® wine.
Always open. Always serving responsibly.
© 2008 Diageo North America, Inc.
About Diageo
Diageo (Dee-AH-Gee-O) is the world's leading premium drinks business with an outstanding collection of beverage alcohol brands across spirits, wines, and beer categories. These brands include Johnnie Walker, Guinness, Smirnoff, J&B, Baileys, Cuervo, Tanqueray, Captain Morgan, Crown Royal, Beaulieu Vineyard and Sterling Vineyards.
Diageo is a global company, trading in more than 200 countries around the world. The company is listed on both the New York Stock Exchange (DEO) and the London Stock Exchange (DGE). For more information about Diageo, its people, brands, and performance, visit us at http://www.diageo.com.
###