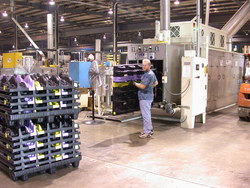 They wanted us to maintain the washer at our facility and staff the washer with loaders and post wash inspectors
Jackson, MI (Vocus) June 18, 2008
Midbrook, Inc, the Jackson, Michigan based minority owned supplier and builder of custom aqueous cleaning and high pressure deburring equipment, has reached an agreement with a domestic automotive parts manufacturer. Midbrook will perform production deburring and cleaning of their aluminum channel plates.
Midbrook's responsibilities include providing, maintaining and staffing the equipment necessary to debur the channel plate brain face with 5,000 psi rotary spray. Midbrook will also low pressure wash, dry, inspect, and then re-package the plates for delivery. In addition to work on the plates, Midbrook also washes each tray of dunnage prior to repack.
Midbrook's customer had originally planned on washing their product in their own machining facility. To prepare for this operation, they purchased two expensive, media based debur stations they believed would consistently eradicate the burrs and contamination present on their parts. Sadly, they found these debur stations did not deliver repeatable results and they spent a great deal of time and money working through customer directed containment exercises.
Midbrook will solve their burr problem with a custom designed, high pressure, fixtured indexing system. First, the parts will be unloaded from the truck and moved to the Midbrook, Inc wash facility. They will then be placed in a fixture nest and secured into position. The properly oriented channel plates will then index into a series of locations within the machine which are designed to debur, clean and then dry the channel plates in preparation for inspection prior to pack and subsequent ship.
Production washing offers numerous benefits for manufacturing companies. Washing a part is a complex process, and the design of the process must be carefully considered for optimum results. Design and implementation of the cleaning process can be difficult, and it is therefore helpful for companies to seek the assistance of an experienced washer company. For companies who do not wish to pay high prices to install and maintain their own wash process, a production washing arrangement with a reliable washer manufacturer can yield good results at a fair price.
Midbrook has been building custom metal fabrications and custom cleaning equipment for over 30 years. They have been working in the production washing field for a decade. In the late 1990s, Midbrook was approached by a North American based automotive company who wanted Midbrook to provide a 5,000 PSI debur and wash operation.
"They wanted us to maintain the washer at our facility and staff the washer with loaders and post wash inspectors," said Midbrook Sales Manager Jamie Crowley.
"We initially declined because as machine builders, we know production work is a completely different animal then building machines."
Midbrook eventually relented and took on the project. After struggles in the beginning while learning the production process, Midbrook began to see the advantages of running a production division and quickly adapted.
"Production work not only enables us to enjoy a steady revenue stream not normally seen by a machine builder, but it also has forced us to see our washers from our customer's point of view," said Crowley.
Working with their own washers in a production setting has helped Midbrook design more friendly machines for customers.
"Both our high and low pressure wash systems are now more user friendly with easier access for maintenance than we had prior to beginning production work," Crowley said.
Production work offers benefits to both vendor and customer. In this case, Midbrook gains valuable experience for future washer designs, and the customers reliably receive clean parts allowing them to keep to their promised schedules.
###