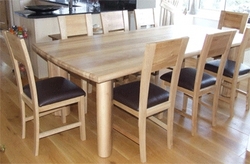 Consumers like the convenience of being able to shop for furniture online, and they like knowing that they can get their garden furniture from a company that cares about the environment
Elstree, UK (PRWEB) June 19, 2008
Entertaining doesn't end when the warm months start to wind down. To acknowledge this, the UK-based garden and patio furniture specialists of Faraway Furniture have expanded their product line this summer to include indoor dining room furniture. The company has released an eight-setting solid oak indoor dining set for 2008, dubbed The Faraway Set.
"Consumers like the convenience of being able to shop for furniture online, and they like knowing that they can get their garden furniture from a company that cares about the environment," says Naomi Aharony of Faraway Furniture. "Our new dining furniture model lets them take those benefits off of the patio and indoors for year-round entertaining. Our goal is to let our customers be green consumers without sacrificing any conveniences, and now we're simply taking what they've come to expect from Faraway Furniture and going beyond the garden."
The company is working to maintain its green business model through their recent product line expansion. Faraway Furniture believes in using sustainable resources to create more environmentally-friendly furniture. This includes using sustainable teak in the building of the company's outdoor garden and patio furniture, as well as fighting against general deforestation through their involvement in the United Nations Environment Programme's (UNEP) Billion Tree Campaign. Faraway Furniture has so far planted over 2500 trees.
The Faraway Set is an eight-seat, solid oak, indoor dining set combining aesthetics and functionality in an elegant yet rustic design. The table and chairs are crafted from solid European oak. The table features a five centimetre thick table top of continuous oak planks, upon 20 centimetre thick oval legs. It is currently one of the heaviest dining tables on the market. The set comes in natural oak or walnut brown finishes, and has a list price of £2499.
About Faraway Furniture
Faraway Furniture, launched in 2003, offers exclusive and exotic collections of outdoor garden furniture and home furniture from the finest sustainable resources. The company prides itself on creating beautiful and practical contemporary designs crafted from durable teak and other woods. In addition to an emphasis on customer service, Faraway Furniture helps customers "live green" by allowing them to feel good about their purchases knowing the company directly helps to replenish the resources used in the creation of their furniture through the planting over 2500 trees so far.
For more information about Faraway Furniture, their green business practises, or The Faraway Set, please visit http://www.FarawayFurniture.co.uk or contact Naomi Aharony at 0845 2342323.
###