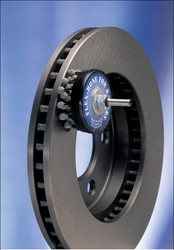 That is more difficult to accomplish than many people thought at the time
Torrance, CA (PRWEB) June 18, 2008
Brush Research is introducing a special line of ball hones to manufacturers, rebuilders and service shops for use on brake system rotors. The new ball hone accomplishes superior metal finishing, eliminating harmonic vibrations.
Imperfect metal finishing can make customers squeal worse than their brakes. Realizing this, Brush Research developed an ultra-smooth abrasive tool to help the auto industry make silence golden again.
A few years ago, when Miller Industrial Products (Jackson, MI) got an order to make brake drums for Cadillac stretch limousines, they knew from the start that quality and performance were critical issues. The big limos were the heavyweights of passenger cars, and required the support of much beefier axles.
"These stretch limos were not only much larger than standard models in overall size, but also featured bullet-proof windows and doors plus a heavy-duty undercarriage," says owner Bill Miller. "Therefore, the brake system required the size of brake drums used on trucks. But at the same time, since these were ultra-luxury vehicles, the brakes had to be quiet - and that was a new challenge."
Miller, a specialist in brake systems, explains that previously, drum-brake systems used asbestos-lined shoes that were inherently much quieter than new ones. Since asbestos has been outlawed, new brakes - whether drum or disk styles - tended to be noisy if the metal finishing was not perfectly smooth.
"That is more difficult to accomplish than many people thought at the time," Miller explains. "Any irregularities in the surface of the drums would cause a squeal, hum or slapping noise that was unacceptable to the OEM, which was very understandable."
Miller says what was needed was a unique honing process to give the brake drums an ultra-smooth finish. To accomplish this, he turned to Brush Research Manufacturing (BRM) in Los Angeles, a manufacturer of power brushes, http://www.brushresearch.com the [abrasive tool] and other finishing tools.
"BRM has a history of solving finishing problems, and makes a ball-style honing tool, the Flex-Hone that allows you to achieve a very smooth finish," says Miller. So we looked at this honing tool and developed a special process to machine the brake drums and then hone them in such a way that they were completely silent. It worked so well that the engineers at Cadillac were amazed."
Miller adds that the ball-style hone has led to increased business with BRM's help with customized solutions that increase efficiency. "We're in a very competitive industry and it's always 9-1-1 on turnaround. A lot of customers come to us because they hear we've got the ability to turn a project around quickly."
The Flex-Hone is a versatile abrasive tool used throughout industry where metal finishing is involved. Known widely as a tool used for de-burring, plateau honing and deglazing, this is an inexpensive yet sophisticated device. A precision-quality ball hone not only de-burrs bored metal, but can easily remove even microscopic metal shards and fragments.
Established in 1958, Brush Research Manufacturing has been solving difficult metal finishing problems with brushing technology in the sophisticated environments of nuclear energy, aerospace and computer technology as well as automotive and industrial applications.
Contact Info:
Heather Fowlie
Brush Research Mfg. Co., Inc.,
4642 East Floral Drive, Los Angeles, CA 90022;
Phone: (323) 261-2193;
Fax: (323) 268-6587;
web site: http://www.brushresearch.com
Transportation
###