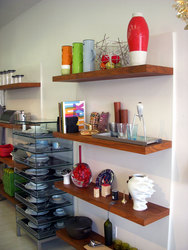 a finely tuned selection of kids' stuff that no parent will be embarrassed to have littering the den.
Los Angeles, CA (PRWEB) June 18, 2008
Fitzsu, a leading design store of contemporary gifts and home accessories, is recognized as one of the "Best and the Brightest" 50 retailers in the U.S. by Home Accents Today, June 2008. Fitzsu was selected by the magazine based on their "creative merchandising, making a good living for themselves, contributing to their communities and distinguishing themselves from the competition."
This is not the first time that Su Sazama and Fitz, owners of Fitzsu, have been recognized for their retail acumen. Fitzsu's seamless combination of brands, balancing well-established labels with talented newcomers, and ability to capture a modern lifestyle in one store explains its success with industry experts and its clientele. In their 2007 Best of LA issue LA Magazine listed Fitzsu "Best of L.A. Designer Toys," calling Fitzsu, "one of L.A.'s top design stores," who carries "a finely tuned selection of kids' stuff that no parent will be embarrassed to have littering the den."
Fitzsu was also voted as the top house wares store in Los Angeles, by Fox L.A. and its viewers in 2007. Su and Fitz have been invited to speak at the Hot Topics at Retail presentation during the upcoming Gift & Home Furnishings Market this July at the L.A. Mart.
Su and Fitz set themselves apart from the competition by infusing their retail with interactive events like the Grand Prix, as described by Gifts and Decorated Accessories magazine magazine. They had the connections to take Playsam's streamliner, a Swedish iconic toy car, and encourage 33 world-renowned designers across several disciplines to create their one-of-a-kind interpretation of it. Su and Fitz involved the community by auctioning on line the cars to the highest bidder and contributing half of the proceeds to the World Childhood Foundation.
In the fall of 2007, Su and Fitz opened the first real estate lifestyle store with Deasy/Penner & Partners, an L.A. based real estate firm specializing in design and architecture specific homes. Deasy/Penner + Fitzsu is located in Palm Springs, California, in Albert Frey's 1960's architectural office where Fitzsu sells its assortment of modern dishware, flatware, wallets, piggy banks, vases, watches and kids toys along side Deasy/Penner's real estate, a one-stop shop for the first or second home buyer.
Such events put Fitzsu on the international map drawing interest from media around the world and positioning Fitzsu as one of 50 retail stars in the U.S., according to Home Accents Today.
Fitzsu, run by owners Su Sazama and Fitz, has two brick and mortar locations in Los Angeles and Palm Springs, California and an on line store at http://www.fitzsu.com. Fitzsu offers a unique selection of personal gifts and home accessories, including a well-focused wedding registry. Su's and Fitz's combined backgrounds in art, design, marketing and international travel have contributed to Su's and Fitz's one-of-a-kind approach to retail.
Contact:
Su Sazama, owner
Fitzsu
7970 Melrose Ave.
Los Angeles, CA 90046
Tel: 323.655.1908
Fax: 323.655.1507
su@fitzsu.com
###