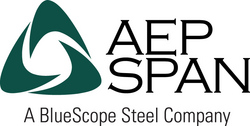 We are glad to be contributing to the sustainable building efforts of someone as Legendary as Aldo Leopold
Dallas, TX (PRWEB) June 19, 2008
June 20, 2008 - AEP Span, a Division of ASC Profiles, a BlueScope Steel Company, was announced as Hanley Wood's Metalmag 2007 Architectural Awards Winner- Roofs, for their work on the Aldo Leopold Legacy Center in Baraboo, Wis.
Many factors of the 24 gauge, standing seam steel roof played into winning the award. The SpanLok Galvalume Plus roof manufactured by AEP Span helped bring the natural daylight into the building, therefore reducing the need for lights, electricity and lower demand for energy consumption. "The Galvalume Plus metal roof caught the attention of the judges for contributing to the structure in multiple ways, including hosting a photovoltaic system and solar hot-water system, as well as guiding rainwater to an on-site rain garden," said Christina Koch, Editor-in-Chief of Metalmag. The 16,200 square foot standing seam roof consisted of a prefinished Galvalume Plus-coated SpanLok roofing system. The AEP Span roof paired the beauty and durability of a standing-seam roof with the functionality of renewable energy by integrating photovoltaic panels mounted to the mechanically seamed standing rib. "We are glad to be contributing to the sustainable building efforts of someone as Legendary as Aldo Leopold," said Foster Gibble, Vice President of AEP Span. For an explanation and a better understanding of how Green Building is being promoted throughout the metal roofing industry, visit http://www.aepspan.com and click on the Green Building link on the homepage.
AEP Span, a Division of ASC Profiles, A BlueScope Steel Company, provides architecturally engineered steel roofing products through a variety of innovative profiles while offering engineering services, installation drawings, product details, and design assistance for a variety of construction projects. Ongoing testing and evaluations of new and existing products insures only the highest product performance from all of our products.
###