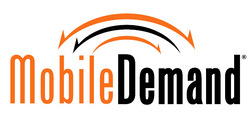 The tablet has really proven itself
Cedar Rapids, Iowa (PRWEB) June 23, 2008
Affiliated Foods Midwest, a member-owned grocery cooperative headquartered in Norfolk, Neb., recently partnered with rugged Tablet PC manufacturer MobileDemand to help simplify its order entry process and streamline operations - a move that helped significantly decrease the cost of goods sold for participating retailers.
The 850 independent grocers that make up AFM previously used small screen handheld computers for their order entry process. This forced them to download data to a desktop computer to review, optimize and finally place the order. The co-op recognized that this was a time-consuming and inefficient process and presented an opportunity to switch to a new full screen, rugged mobile computing system.
With the industry's highest processor performance, MobileDemand's xTablet gave AFM the ability to develop an enhanced functionality software application for the Tablet PC, thus enabling back-office server functionality and decision making at the point of order entry on the retail floor. With the database stored on the Tablet PC, the application allows department managers to make critical ordering decisions instantly as they are reviewing the store shelves, completely eliminating the need for a second process for managers to download data from a handheld unit to the back-office server and then review allowances and other key data on the ordering server.
"As a full screen computer, the MobileDemand xTablet Tablet PC can run any off-the-shelf software written for the standard full Windows environment," said Matt Miller, president of MobileDemand. "This significantly reduces the time and costs for software development and system integration, which meant it was relatively simple for AFM to develop and port their back-end server application for use on the xTablet Tablet PC."
This implementation has had a significant impact on how retailers ordered goods for their stores.
"Since the tablet is a full-function computer, we're able to process the information when the order is being taken," said Vic Ching, owner of Lanning's Food Center in Plainview, Minn. and Chief Information Officer for AFM. "It basically gives us the freedom to roam within the retail space and process the information in a much more efficient manner. It consolidates multiple steps into one, and it gives our retailers the information in a timely manner so they can make the right ordering decision."
The ruggedness of the xTablet also played a key role in this deployment. Designed for durability, the Tablet PC's lightweight magnesium alloy will withstand the harshest environments. From dust, water and rain to extreme temperatures or repeated drops, the Tablet PC meets all military grade ruggedness standards.
"Since our retailers are all independently owned, we don't sell them the xTablet, but lease it to them," said Ching. "Therefore we needed to make sure the Tablet PC had a long lifespan within the field to be able to recoup the initial purchase cost."
Today, AFM has approximately 500 retailers utilizing the tablet, with some retailers using multiple tablets because of the size of their operation. Along with streamlining the order entry process, AFM retailers have also seen their percentage allowances increase by as much as 1 percent. This decrease in cost of goods sold flows directly to the retailers' bottom line.
"The tablet has really proven itself," said Ching. "The retailers have truly embraced this device's ruggedness and versatility, and have been selling it amongst themselves."
AFM has been so pleased with the xTablet Tablet PCs that officials are developing additional applications for the device to be used in the future.
For pictures, videos and more information about this implementation, visit http://www.RuggedTabletPC.com to read the full case study and watch the case study video.
MobileDemand offers rugged Tablet PCs for a variety of vertical industries that provide a lower total cost of ownership over non-rugged computers; supported by actual customer experience and factual independent research. MobileDemand elevates itself by uniquely offering the combination of a total complement of mounts and accessories, flexibility built into their systems, superior and personalized customer service, and customer focused engineering - all to help customers best satisfy their mobile computing needs. Additional information is available at the MobileDemand Web site.
MobileDemand, xTablet, and xView are registered trademarks or trademarks of MobileDemand, LC. All other brands, products, or service names are or may be trademarks of their respective owners.
###