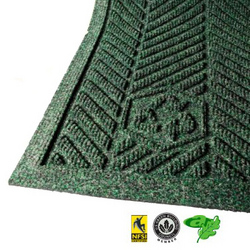 Cleveland, OH (PRWEB) June 19, 2008
Martinson-Nicholls and the Andersen Company are committed to the "Green Movement" and now offer a new line of recycled floor matting systems. The use of PET Polyester fiber derived from used plastic drink bottles and rubber reclaimed from tires reduces landfill waste by over 400 tons annually. It also conserves the natural resources and energy that would normally be required for their production. Every square foot of a Waterhog Eco matting eliminates four half-liter drink bottles from the waste stream. Each 3' X 5' floor mat uses approximately 60 bottles are recycled.
This new Eco line consists of the Waterhog Eco Premier, Grand Premier, Premier Tile, Elite, Grand Elite and Elite Roll Goods. These high performance entry mat systems effectively stop damaging dirt and moisture at the door. A rubber reinforced "bi-level" cleaning surface is permanently molded into the product, eliminating crushing of the surface and insuring long term, cleaning effectiveness. The Eco carpet matting is available in a variety of sizes and colors to match any decor.
The Waterhog Eco Entry Mats, Tiles and Roll Goods are the perfect choice for high traffic entryways in commercial buildings. These products are suitable for airports, hotels and motels, schools, retail stores, healthcare facilities, restaurants, grocery stores, plant entrances and office buildings. The recycled carpet mats are designed to give high traffic facilities maximum protection against damaging and costly dirt and moisture, as well as protecting them from slips and falls.
All mats in the Eco line are anti-static and pass the Federal Flammability Standard. The Green Building Council's LEED EB certification awards one point for the use of our Eco mat systems, and the National Floor Safety Institute also certifies them slip resistant.
About Martinson-Nicholls
Martinson-Nicholls, has established itself as a leader in custom floor matting, heated floor mats, and safety solutions for more than 25 years.
Martinson-Nicholls provides the customer with the exact size of floor matting needed--small, large, standard, nonstandard, special shapes and logos. Custom installations are also a specialty of the company.
Anti-slip safety tapes and treads are available in various sizes and textures from hand cut or die cut pieces to full rolls and special shapes.
Martinson-Nicholls concentrates on floor safety, noise reduction, and anti-fatigue and indoor and outdoor heated floor mat applications. They welcome the special applications that our customers present, as this has enabled them to satisfy come very unique and unusual problems for customers. For more information, please visit http://www.floormat.com.
###