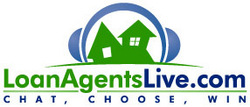 before deciding which mortgage company they would like to use to do their mortgage loan.
Los Angeles, CA (PRWEB) June 19, 2008
A new website allows borrowers to anonymously chat with mortgage companies on their site and compare mortgage quotes instantly. The site http://www.LoanAgentsLive.com has taken traditional mortgage shopping to the next level by integrating live chat technology with leading mortgage companies nationwide, giving consumers the ability to compare mortgage offers in the privacy of their own home.
LoanAgentsLive appears to be the only site that allows mortgage seeking consumers to remain 100% anonymous while chatting online with different mortgage brokers in their area. The site does not require users to register prior to being able to chat live with the lenders on their site. Borrowers simply do a search for mortgage companies in their area, choose a lender they would like to chat with, and instantly they are connected to a live loan agent from that mortgage company.
When it comes to shopping for a mortgage loan it is always best to weigh out your options prior to choosing a loan. The best way to do this is to speak with a few different mortgage companies upfront, compare offers and see which mortgage loan is the right loan for you.
Calling several companies to get a quote over the phone is one way to do this but can be very time consuming. Not to mention the headache of being high pressured by a loan officer into doing a loan with their company.
Applying on mortgage websites that offer multiple quotes will often lead to your personal information being sold to hundreds of mortgage companies. And with the rise in online identity theft, mortgage fraud, and spam, consumers are much more reluctant to give out personal information online.
Aaron Quick, President of LoanAgentsLive.com, stated, "The beauty of our website is that we protect the homeowner's privacy. We don't even require an email address before connecting borrowers directly to our live loan agents. This allows the borrower to "test the waters" before deciding which mortgage company they would like to use to do their mortgage loan."
Online chat has already proven to be very effective for mortgage brokers and national lending companies such as Ditech and Quickenloans. According to The Washington Times, live chat helped increase Bank of America's online mortgage sales by 800 percent in the first quarter of last year.
Quick also stated, "We are not the first mortgage company to offer live chat on their website however we are the only company that allows borrowers to chat online with multiple mortgage companies in minutes all from one website, ultimately saving consumers time and money."
Let's face it...This is the information age of technology and in a world where people want answers now LoanAgentsLive seems to be a glimpse into the future of online mortgage lending offering a simple, fast, and most importantly safe way to compare mortgage quotes in minutes. In an ever changing industry LoanAgentsLive sets the stage for a new and innovative way for consumers to get the help they need while at the same time allowing mortgage lenders to reach out to new customers in a way that makes them feel comfortable making one of the most important decisions in their lifetime.
About LoanAgentsLive.com:
LoanAgentsLive.com offers mortgage-seeking consumers a simple and secure way to chat directly and anonymously with a Loan Consultant from the Lender of their choice. For assistance in evaluating mortgage situations, or to receive answers about mortgage, home loan, refinance, home equity, debt consolidation, reverse mortgage, foreclosure, fixed, adjustable rate, zero down, 15, 30, or 40 year mortgage loans visit LoanAgentsLive.com.
Contact:
Aaron Quick, President/CEO
LoanAgentsLive.com
818-783-2306
###