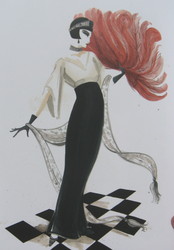 Cherry Hill, NJ (PRWEB) June 25, 2008
In a joint effort to raise funds and awareness of Cystic Fibrosis, a chronic and debilitating disease which affects 30,000 children and adults in the US, 70,000 worldwide, Decotique.com partners with the Cystic Fibrosis Foundation of Greater Delaware Valley. Decotique.com will donate 10% of its proceeds to the Foundation in support of patients and families, continued research and community awareness.
Owner Kate Butler announced today, June 25, 2008, the Grand Opening of Decotique.com, Art Deco Antiques, a shop whose foremost goal is the fight against CF, a battle she knows all too well. Having lost a daughter to CF last year, she had been seeking a fitting memorial in celebration of Jessica's life. With plans in the works of starting her own business, Kate wanted to find a way to combine her passion for The Moderne Era as a loving tribute to Jess as well as an effective tool to help others. Thus, Decotique.com was born. We were so appreciative of the kindness shown by the Cystic Fibrosis Foundation during our daughter's illness we felt we had to find a way to give something back, says Kate. Combining more than 20 years experience fighting CF with her expertise in the stylish world of Art Deco Fashion and period antiques, Kate feels she can make a meaningful connection between both worlds. While sharing her love for the Moderne Era, Kate's goal is to reach out to those who have never heard of CF in order to raise awareness of the disease. In addition to her web shop, Decotique.com, where antique Whiting & Davis purses, beaded Flapper dresses, Depression Era art and glitzy estate jewelry are featured, Kate's Art Deco treasures can be found in the brick and mortar shop of Haddon Heights Antiques Center, Haddon Heights, NJ.
As difficult as it was for Jess to deal with the pain of CF on a daily basis, The Cystic Fibrosis Foundation's Delaware Valley chapter was particularly helpful to us. As a young parent who had little knowledge about the disease, the Foundation readily provided useful information and resources. They were a God send. Kate especially encourages parents of newly diagnosed CF patients to visit the Foundations website at http://www.cff.org.
A veteran collector, Kate has an eye for fashion of the Roaring Twenties. Knowing where best to find these treasures at fair prices is a skill she guards zealously. Her web shop offers more then Deco eye candy. It literally transports you back to the time of the Speak Easy, Flappers and glamour of Vaudeville Hollywood. To accessorize at Decotique.com is a special treat.
To learn more about Decotique.com, Cystic Fibrosis, Art Deco and The Moderne Era, visit Kate online at http://www.decotique.com or http://decotique.zoints.com or call (856) 912-1082.
###