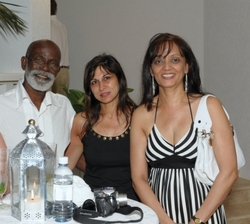 Anguilla is truly a unique island, not only in the Caribbean, but throughout the world. We are recognized for having the best beaches in the world and some of the finest dining in the West Indies. I am extremely pleased that two iconic brands like Fairmont Hotels & Resorts and Jack Nicklaus are partnering with the Lake and Kentish families on this incredible oceanfront property.
Anguilla, British West Indies (PRWEB) June 19, 2008
The weather couldn't have been better on the coveted island of Anguilla, and neither could the sales generated at the Fairmont Anguilla Founders Launch on May 29-June 1, 2008. An enthusiastic group of future owners, from all over the world, were on hand to select their property at this glamorous oceanfront resort that will feature a Jack Nicklaus Golf Club, one of only 25 in the world. In all, 27 Founders Packages were sold between 1:00 p.m. and 3:00 p.m. on Saturday afternoon, representing total sales during this pre-construction phase at just over U.S. $70 million. This marks one of the largest, most successful, new real estate Launches in the Caribbean in more than 18 months.
"We're very excited about the success of this Founders Launch," says Mike Collins, Principal and CEO of IMI, whose company is handling all sales and marketing efforts. "The enthusiasm of these future owners is evident. It proves that premier real estate offerings that provide genuine value, like Fairmont Anguilla, are still very much in demand, even in a down market. As most savvy buyers are aware, the best real estate opportunities are often created in a challenging market environment."
The three-day event was a celebration from the start, with attendees arriving amidst a spectacular setting of bright skies, radiant azure water and gentle Caribbean breezes. The future owners enjoyed a number of rich destination experiences that awaits them at Fairmont Anguilla--including a private evening concert by local reggae artist Bankie Banx and "A Taste of Anguilla," a culinary journey from some of the island's legendary restaurants that have earned the praise of Travel + Leisure, Food & Wine and Bon Appétit, among others.
Anticipation for Fairmont Anguilla's Founders Launch Weekend has been building for some time, and the end result even exceeded the already high expectations. This luxury real estate community promises an elegant and enriching Caribbean lifestyle. Two of Anguilla's most well respected families--the Kentishes and the Lakes--came together and were the driving force behind making this dream a reality. This spectacular piece of oceanfront property (recently valued at over U.S. $160 million) has been in their respective families for more than 100 years, and their efforts have ensured the homeowners will celebrate the unique and beautiful destination.
The Honourable Osbourne Fleming, Chief Minister of Anguilla, was unable to attend the Grand Opening but has been an ardent supporter of the project since day one. He says, "Anguilla is truly a unique island, not only in the Caribbean, but throughout the world. We are recognized for having the best beaches in the world and some of the finest dining in the West Indies. I am extremely pleased that two iconic brands like Fairmont Hotels & Resorts and Jack Nicklaus are partnering with the Lake and Kentish families on this incredible oceanfront property."
Encompassing 400 acres--including two miles of unspoiled oceanfront--Fairmont Anguilla will undoubtedly set the standard for luxury in the region. This rare Caribbean real estate opportunity will provide each Founding Member with a premier Estate Lot; a one-, two- or three-bedroom luxury Residence; a Founders Membership with lifetime paid dues; an Associate Membership to the Jack Nicklaus Golf Club--one of only 25 worldwide; and a Founders Membership at the Jack Nicklaus Golf Club, Anguilla. Founders Packages begin at U.S. $1.6 million.
The entire Development Team that will bring this amazing property to life is stellar: Jack Nicklaus, the renowned player and course designer whose Fairmont Anguilla course will be the site for an exclusive Jack Nicklaus Golf Club; Fairmont Hotels & Resorts, the award-winning luxury hotelier who will manage and operate this resort community; PN Holdings, LLC, who will oversee project development; EDSA, the hand-picked design team recognized as one of the world's leading planning, landscape architectural, urban design and graphic design firms; EllisDon, a global leader in construction services that will be responsible for completing the construction design; KNA Interior Design, whose creations are both expressive and functional; OBM International, a premier design-consulting firm specializing in resort design and development; and IMI, the industry leader in luxury resort real estate sales and marketing.
The West Indies has long been a favorite tropical getaway and Anguilla, particularly, has emerged as an exclusive destination for affluent travelers. According to John Tolbert, Executive Vice President of IMI, Fairmont Anguilla provides everything buyers are looking for in a premier luxury real estate offering. "You start with a highly coveted piece of beachfront property--property that's been owned by the same families for generations. Then you bring in Jack Nicklaus, the top golf course designer in the world. On top of that, you add a leader in hospitality like Fairmont Hotels & Resorts. The result is a rare real estate opportunity that allows buyers to own a piece of paradise--it's the type of offering they've been craving."
The island of Anguilla, renowned for its white-powder beaches and pristine turquoise water, is unlike any other island in the Caribbean. Only 16 miles long by 3 miles wide, Anguilla has earned the title "World's Best Beaches" from Condé Nast Traveler, USA Today and Fodor's. The Fairmont Anguilla resort is centrally located along the island's eastern shore, promising convenient airport and ferry terminal access, as well as easy access to more than 40 world-class restaurants and nearby islands St. Maarten and St. Barts.
Anguilla's reputation as one of the most exclusive destinations in the Caribbean provides a perfect backdrop for the resort's Jack Nicklaus Golf Club and an array of amenities, including a Willow Stream Spa, private beach clubs, infinity edge pools, championship tennis, world-class fitness facilities, plus a sophisticated array of services and amenities. The resort will include just over 100 beautifully appointed Estate Lots and approximately 300 Residences, featuring stunning views of the pristine oceanfront property or the Jack Nicklaus Signature Golf Course.
To learn more about how you can take advantage of this rare real estate opportunity while there's still time, please call 800-440-8060, 264-497-3320 or visit http://www.FairmontAnguilla.com.
About Fairmont Hotels & Resorts:
A leader in the global hospitality industry, Fairmont Hotels & Resorts is an extraordinary collection of luxury hotels, which includes iconic landmarks like the Fairmont Singapore, Fairmont Le Montreux Palace in Switzerland and New York's The Plaza. Fairmont hotels are one-of-a-kind properties where sophisticated travelers can discover culturally rich experiences that are authentic to the destination. Situated in some of the most exclusive and pristine areas in the world, Fairmont is committed to responsible tourism and is an industry leader in sustainable hotel management with its award-winning Green Partnership program. Fairmont's portfolio includes 56 distinctive hotels, with plans to develop over 20 new properties in the coming years in destinations as diverse as Shanghai, Abu Dhabi and Anguilla.
Fairmont is owned by Fairmont Raffles Hotels International, a leading global hotel company with 90 hotels worldwide under the Raffles, Fairmont and Swissôtel brands. The company also owns Fairmont and Raffles branded Residences, Estates and luxury private residence club properties. For more information or reservations, please call 1-800-441-1414 or visit http://www.fairmont.com.
About IMI:
IMI, headquartered in New York, specializes in the sales and marketing of luxury resort real estate in the most desired destinations throughout the U.S., Mexico and the Caribbean. Since 1990, IMI has introduced thousands of clients to opportunities for real estate ownership in some of the greatest places in North America, from beachfronts to mountaintops to towering city penthouses, resulting in over U.S. $4 billion in closings. For more information about the company and its offerings, visit IMI's Web site at http://www.imiliving.com or call (864) 233-6070.
###