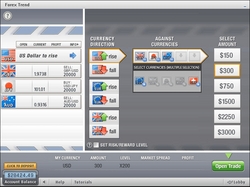 Limassol, Cyprus (PRWEB) June 20, 2008
From the get go, eToro has revolutionized the foreign exchange trading, by taking a creative approach. With eToro's winning combination of financial know how and user friendly interface, anyone can monitor, share, and discuss their trading activity while enjoying the latest financial updates. This easy to use platform allows to use real or virtual money to execute real-time trades with a click of a button, making the complex world of international finance simple and interactive.
eToro is seeking to combine professional forex trading capabilities with a web 2.0 community feel. The eToro platform focuses on practice and education, as well as providing all the essential trading tools, with the eToro forex trading community constituting an essential part of the educational process.
Through eToro's private and public chats, traders can share forex tips, news and strategies, meaning that the community plays a crucial role in encouraging and facilitating a trader's development. The same goes for the eToro forums where our users can discuss forex trading, post their insights and enjoy the input of our professional forum administrators.
With the release of the new version of the eToro platform, community has taken an even more central place in the forex trading experience. Now our users can create their own web 2.0 style personalized profile in the community panel, with uploaded pictures, manageable friend lists and various other customized features. Now more than ever, eToro is directing its efforts towards nourishing its thriving forex trading community and encouraging its growth.
As part of this general direction, eToro is revamping its Invite a Friend Program with a spectacular new offer. Traders who introduce a friend to the eToro community will receive an unprecedented $50 bonus, while the referred trader will receive the exact same amount. Because eToro's commitment to developing the community is virtually boundless, the offer applies for all referred friends with an unlimited number of invites.
In addition, eToro has added the popular eWallet Neteller as another convenient method for depositing and withdrawing money. During June eToro holds a special promotion for depositing through Neteller of 100% match up bonus for deposits of up to $200.
eToro welcomes all new traders and is more than happy to reward active and contributing community members. Together we can all enjoy a more rewarding and fulfilling forex trading experience.
Experience a simple way to trade Forex at: http://www.etoro.com
###