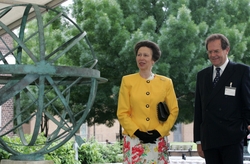 In this way, you really get the reality of the situation coming through
(Vocus) June 19, 2008
The University of London External System has been at the cutting edge of facilitating debate around global and local issues through relevant study programmes – long before these issues became topical in the media – said HRH The Princess Royal, Chancellor of the University of London.
Speaking at the 150th Anniversary celebrations yesterday (12 June 2008) where HRH The Princess Royal unveiled a sundial to mark the occasion, she spoke of the relevance of study programmes provided by the University of London External System: "I'm delighted that Agricultural Economics is widely studied, with decision makers debating how best to address the world's food shortage. That's not something that happened last month when it became an issue in the media – this has been going on for some considerable time. That is a real encouragement, that there are people out there who've been having this debate."
The Princess Royal added: "Courses in Sustainable Development, developed by the External System, help meet the challenges that have been articulated in the Millennium Development Goals at the Rio Summit on Environment and Development; and the Declaration of the Johannesburg Summit on Sustainable Development. Responding to global interests, but very much based on the local needs and the local inputs of the individuals concerned.
The Princess Royal also cited the example of International Primary Health Care, which brings together health professionals from all over the world who are then able to share their experiences through interaction online. The Princess Royal stated: "It's also encouraging to know that Primary Health Care has such a high profile. Whatever we say about research into medicines and cures, primary and public health care are still the things that are going to make the biggest difference, and a worldwide understanding of how best to apply those standards is perhaps one of the most important areas of debate."
Study programmes offered through the External System equip the student with much-needed skills. More importantly, graduates of these programmes, who have day-to-day experience of these issues, are able to contribute towards the debate at an appropriate level. "In this way, you really get the reality of the situation coming through", the Princess Royal added.
Notes for Editors
Picture caption (left to right): HRH The Princess Royal viewing a sundial unveiled as part of the University of London External System's 150th Anniversary celebrations. Pictured with Professor Jonathan Kydd, Dean of the External System.

The sundial was commissioned to mark the 150th Anniversary of the University of London External System. It was unveiled in Torrington Square, London WC1 on the University campus.
The University of London was established in 1836 and is one of the oldest, largest and most diverse universities in the United Kingdom.
The University's founding principle is to provide education for all, irrespective of race, creed or political belief.
In 1858, the University of London was granted its fourth Charter, which paved the way for the establishment of the University of London External System.
The University of London External System is a unique global network of 41,000 students in 180 countries, on more than 100 study programmes ranging from social sciences to law to health.
The External System has been instrumental in the formation of British higher education – all English and Welsh universities founded between 1849-1949 offered University of London degrees before obtaining charters to award their own.
Between 1946-1970, the External System played a significant role in establishing many Commonwealth universities under a unique scheme of 'special relations'.
Through the External System higher education was made available to a much wider range of social classes; it pre-empted 20th Century developments in open, flexible and distance learning by more than 100 years.
Famous former students and alumni of the External System include five Nobel Prize Winners: Sir Frederick Gowland Hopkins, Ronald Coase, Wole Soyinka, Derek Walcott and Nelson Mandela.
The top 20 countries the External System operates in:
1. Singapore
2. Hong Kong
3. UK
4. Trinidad
5. Malaysia
6. Pakistan
7. Bangladesh
8. USA
9. Sri Lanka
10. Canada
11. Mauritius
12. UAE
13. Jamaica
14. Nigeria
15. India
16. Russia
17. Kenya
18. Malta
19. Germany
20. Japan
To find out more about the External System and its 150th Anniversary please visit:
For further information contact:
Binda Rai
Head of Global Media and PR
University of London External System
Email: binda.rai @ london.ac.uk
Tel: +44 (0) 20 7862 8545 (office)
07920 476483 (mobile)
Peter Quinn
Senior Communications Manager
University of London External System
Email: peter.quinn @ london.ac.uk
Tel: +44 (0)20 7664 5584 (office)
###