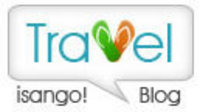 We want our blog to bring something unique and fresh to the world of online travel
(PRWEB) June 20, 2008
Leading online travel experiences provider isango! is pleased to announce the launch of its first, official Travel Blog.
After a successful beta launch, the isango! team looks forward to inspiring and entertaining a broader public with creative travel ideas and humorous, anecdotal insights, while, of course, communicating practical travel-planning advice.
The blog will also keep consumers updated with company news, information and product launches.
"We want our blog to bring something unique and fresh to the world of online travel," says Carrie Daniel, a creative writer who joined the isango! team in February and has helped to get the new site up and running. "There are so many experiences to choose from; we want to inspire travellers to be a bit more daring -- to approach their itineraries through an experimental lens."
Contributors to the multi-author blog hail from a variety of cultural and professional backgrounds and, drawing on their own life and travel experiences, aim to enhance consumers' online booking experiences with personalised commentary and insightful observations.
Topics range from Bollywood, to Barack Obama, to Birdwatching.
"This is a very exciting development for us," comments isango!'s CEO and co-founder Ranjan Singh, who has seen his brainchild explode since its coffee shop beginnings in 2006: "this is yet another example of isango!'s commitment to innovation -- to delivering top value to our consumers. We got great feedback in beta and look forward to engaging with our customers in a whole new way."
The vibrant, young start up was the recent recipient of an $8 million Series A funding round, led by SPARK Ventures, and plans to consolidate on a fantastic 2007 with further investment in their market-leading technology and entry into new markets.
Daniel encourages readers to visit the new site, to post comments and "...not to hold back -- this it not a place to be shy -- we want our readers to have fun!"
The isango! Travel Blog which officially launched on Friday 13th June, can be accessed from the http://www.isango.com homepage, or directly at: http://blog.isango.com.
###