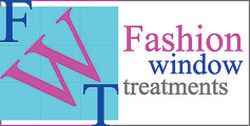 We also add to our decorative trim and fabric options twice a year
Fredericksburg, VA (PRWEB) June 24, 2008 -–
Fashion Window Treatments, Inc. (http://fashionwindowtreatments.com) recently expanded their product line, adding 12 new styles of window valances and decorative throw pillows as well as 50 new designer fabrics and decorative trim options.
Jonathan Wilken, president of FWT Inc., says that the company continually researches the home décor and window treatment markets, adding products to their lines.
"We also add to our decorative trim and fabric options twice a year," Wilken says. "It's all about options and giving our customers the ability to design an endless array of home décor products."
The market for 'semi-custom products' has developed only recently with Fashion Window Treatments, Inc. at the forefront, continuously defining and developing this new niche market. Semi-custom options offer customers a level of quality several steps higher than that of off-the-shelf, ready-made home décor products yet at a price well below high-end, fully custom alternatives.
In lieu of hiring a professional home decorator, Fashion Window Treatments, Inc. clients can take advantage of today's technology paired with live assistants from the company's on-staff design consultants. Customers receive unique and professional options for window treatments, bedding, shower curtains, decorative pillows and more at a fraction of the cost.
The Fashion Window Treatments, Inc. web portal offers customers the flexibility to construct their final products, including choosing sizing, adding decorative trims and tassels to products. They can also opt for professional suggestions for coordinating fabrics, styles, and measuring. Products are then sewn and shipped within seven days of placing an order.
As the leading retailers of online semi-custom home décor products, Fashion Window Treatments, Inc. guarantees quick turnaround times, unlimited options, affordability, and unique products that are sure to please. Unlike its competitors, FWT, Inc. believes in live design assistance Monday through Friday, 7:30 am to 4 pm EST. They can be reached toll free at 1-866-444-6818.
About Fashion Window Treatments:
Fashionwindowtreatments.com is a true online home fashion company that believes in working directly with the consumer to provide superior quality and affordable home décor products.
For more information on Fashion Window Treatments, please visit their website at fashionwindowtreatments.com.
Media contact:
Kelly Stitt
FTW, Inc.
1-866-444-6818
fashionwindowtreatments.com
###