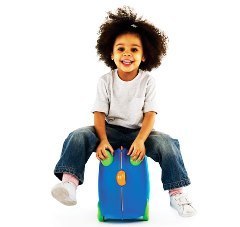 Most three year olds are capable of pulling their own suitcase
Interlaken, NJ (Vocus) June 20, 2008
Citing higher fuel prices, airlines keep raising ticket prices and tacking on additional fees while curtailing or completely eliminating many services previously offered. Want to check a bag? Get out your wallet. Want a soda or juice? Get out your wallet. Want a snack? Forget it, unless you brought one on board.
Most significantly, American Airlines, United Airlines and US Airways will be charging passengers, other than those flying business or first class, or who have elite frequent flier status, for each piece of baggage checked. The charge is $15 each way for one checked bag, and $25 each way for each additional bag. United says that it has estimated that the $15 fee will apply to one out of three customers, and that the potential revenue from baggage fees will be approximately $275 million a year. For a family of four traveling in economy, each with one piece of checked luggage, this means an additional roundtrip cost of $120.
Fortunately, these fees can be avoided by having each member of the family carry on his or her own suitcase and small bag (purse, backpack, small tote). Most airlines permit one carry-on and one personal item per person for domestic travel. So for kids, parents can look to Little Jet Set, an online retailer of children's travel accessories including luggage, backpacks, rolling duffels, tote bags, toiletry kits, and lunch bags, as well as travel games, toys, arts and crafts, puzzles and activities for infants, toddlers and children up to age 12. The small suitcases and duffel bags are a practical and easy solution for consolidating smaller items.
"Most three year olds are capable of pulling their own suitcase," says Hana Wolf, CEO and Co-Founder of Little Jet Set. "In fact, most kids, including toddlers, want their own bag that they can pack their clothes in, and fill with their favorite toys, games and goodies to keep them busy while traveling." Wolf adds, "If a longer trip is planned, requiring more clothes, then a child's carry-on suitcase can be used solely for that purpose, and a backpack can be added for the toys, games and other in-flight entertainment, as well as snacks."
At Little Jet Set, parents will not find the ubiquitous black rolling suitcase, but rather fun and functional items designed specifically for children, such as Trunki the award-winning ride-on suitcase, which is available in blue (Terrance), pink (Trixie) and green (Towgo) for ages 3-6. There are also numerous child size rolling suitcases, rolling duffel bags, backpacks, gym bags and lunch bags featuring bugs, dinosaurs, ballet dancers, horses, construction vehicles, flowers, dogs, pirates, vikings and much more from standout European and American designers and companies such as Agatha Ruiz de la Prada, Busquets, Room Seven, Tyrrell Katz, sigikid, Dante Beatrix, Crocodile Creek and Room It Up, among others.
For families who will be flying this summer, here are a few Little Jet Set favorites to consider:
Smile Rolling Suitcase with Large Vanity by Agatha Ruiz de la Prada ($99)
This carry-on size rolling suitcase is perfect for little ones to fill with games, toys and art supplies to keep them occupied on a flight, or to fill with clothes for a long weekend away. Bold colored stripes and a big smiling face with blue heart-shaped eyes (an Agatha signature design) adorn this suitcase, which comes with a matching large vanity case. Suitcase measures 14.25 in. x 21 in. x 6 in. Coordinating Small Vanity Case ($12) and Toddler Backpack ($20) also available.
Hugs Rolling Duffel by Busquets ($119.95)
Founded in Barcelona, Spain in 1922, Busquets has finally brought its distinctly European designed children's bags and accessories to the United States. Whether your family vacation plans include an outdoor adventure or a trip to the city, you will want to bring along this bag featuring a sweet puppy. Large interior compartment with all around double zippers, double zippered side compartment, adjustable removable shoulder strap, double hand carrying strap with velcro wrap around grip, adjustable, retractable towing handle. Measures 22 in. x 12 in. x 12.5 in. Coordinating Toiletry Bag ($37.95), Backpack ($69.95) and Lunch Bag ($25.95) also available.
Home Sweet
Home Rolling Suitcase by Room Seven ($180)
This fun and funky rolling suitcase by renowned European children's clothing company, Room Seven, is a must-have accessory for the stylish young jet setter. The Home Sweet Home collection charms and inspires with heritage prints in fresh colors like sunshine yellow, petal pink, turquoise, hot pink and citrus lime. Gingham, denim, polka dots, stripes, floral print and embroidery are combined to create a one-of-a kind design featuring Home Sweet Home, the roof of which is actually a zip pouch. Red interior has 2 pockets and elastic straps to secure contents, adjustable, retractable handle, all around double zipper closure, ID pocket on back. Measures 19.5 in. x 12 in. 7 in. Coordinating Toddler Backpack ($78) and Diaper/Overnight Bag ($160) also available.
Sammy Samoa Rolling Suitcase by sigikid ($75)
This stylish and fun suitcase with wheels featuring a pirate named Sammy Samoa is the ideal carry-on for little swashbucklers going off to see the world. Two zip front pockets, two side pockets, retractable handle, double all around zip closure. Made of durable, high quality nylon - wipes clean. Measures 15.75 in. x 12 in. x 6.75 in. Coordinating Backpack ($32.50), Gym Bag ($16.25), Toiletry Bag ($16.25), Lunch Bag ($36), and Lunch Container ($11) also available.
Bugs Rolling Suitcase by Tyrrell Katz ($58)
Started 15 years ago in a tiny studio in West London, Tyrrell Katz has finally come to the U.S. Boasting original designs drawn by James Tyrrell himself, this line of kids' luggage, bags and accessories is unlike anything else you've seen. The Bugs series is absolutely delightful and not the least bit frightful with its more than 30 different crawling and flying friends in bright colors and patterns. This rolling suitcase is perfect for an overnight stay or to carry on an airplane - easily fits under the seat giving your little one access to all his toys and games during flight. Interior has elastic straps to secure contents, double zipper closure, retractable handle for pulling and top handle for carrying, made of durable nylon and vinyl. Measures 14 in. x 9 in. x 5 in. Coordinating Backpack ($45), Wash Bag ($14), Gym Bag ($24) and Lunch Bag with Drinking Bottle ($36) also available.
About Little Jet Set
Little Jet Set was co-founded by a pair of seasoned attorneys turned expert "mom travelers" who decided to take a break from practicing law to share their knowledge about the inherent challenges of traveling with children with other parents. As "mompreneurs," Hana Wolf and Nisha Cordero carefully select thoughtfully designed and well-constructed products that appeal to various ages and interests and that respond to the travel needs of today's families. Little Jet Set offers over 700 travel products for kids in more than ten categories including: luggage and bags; blankets and pillows; games and puzzles; toys; bath and body; books and flashcards; clothing and accessories; dolls and stuffed animals; journals and albums; and arts and crafts. Products can also be searched by age, price and brand.
###