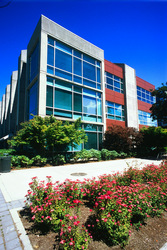 With the McGavin Building, we are showing that existing buildings can be made healthier and more energy efficient simply by being more conscientious about their ongoing operations, as well as the everyday choices made for preventative and upgrade maintenance. Beginning with the McGavin Building, we fully expect that all of our facilities will meet BOMA Go Green standards by 2010
Vancouver, BC (PRWEB) June 24, 2008
Discovery Parks Trust was recently recognized by its peers for its corporate leadership in developing and managing environmentally responsible green buildings for BC's growing knowledge economy. Discovery Parks received BOMA Go Green Certification for its Gerald McGavin Building, which was built in 1996. The McGavin Building is a multi-tenant technology transfer facility located on the main campus of the University of British Columbia that provides offices and wet lab space for start-up companies in the technology and life sciences sectors.
"Our use of best practices in building management means that our tenant companies can expect improved safety, health, comfort and employee productivity," stated Mark Betteridge, Executive Director and CEO of Discovery Parks. "These are important factors in the knowledge economy where worker shortages are making employee attraction and retention a significant problem for executives and policy makers."
"With the McGavin Building, we are showing that existing buildings can be made healthier and more energy efficient simply by being more conscientious about their ongoing operations, as well as the everyday choices made for preventative and upgrade maintenance. Beginning with the McGavin Building, we fully expect that all of our facilities will meet BOMA Go Green standards by 2010," said Jim Ross, Director of Tenant Services at Discovery Parks, and the lead for its BOMA Go Green certification program. "Aside from the operational efficiencies, which are very important in light of current energy prices, our green buildings provide an attractive home for progressive tenants looking to provide a pleasant and productive work environment for their teams."
While Discovery Parks has been building and managing high-performance buildings for a number of years, its DiscoveryGreen building will set a new standard for green buildings in Canada when it is completed in April 2009. Developed in partnership with Morguard Investments, DiscoveryGreen will add 150,000 square feet of healthy and socially responsible workspace to the Lower Mainland's tight commercial real estate market.
In keeping with its focus on innovative design, Discovery Parks is currently investigating the feasibility of an even greener commercial building design that will replace a significant amount of concrete with engineered wood products constructed from mountain pine beetle (MPB) wood. This new construction style has the potential to significantly reduce greenhouse gas (GHG) emissions by sequestering carbon within the wood while minimizing the use of Portland cement, the production of which is one of the largest single GHG emitters.
"As a partner in BC's Innovation Economy, it's only fitting that Discovery Parks will continue to push the boundaries of design to create buildings that are greener and healthier for our knowledge workers," stated Mark Betteridge.
About Discovery Parks Trust:
Discovery Parks Trust is BC's leading operator of office and laboratory research space for the technology and life sciences sectors. By housing spin‐off companies and those seeking to develop stronger relationships with post‐secondary institutions, Discovery Parks' multi‐tenant facilities provide an essential bridge between industry and academia in BC for knowledge and technology transfer.
A unique social enterprise, Discovery Parks is a private company with a public purpose. It has distributed more than $12.6 million of its operating profits to benefit academic research in BC. A leader in green building development, Discovery Parks built Canada's first LEED‐certified lab building in 2003 and is currently constructing DiscoveryGreen in Burnaby, BC.
In 2002, Discovery Parks was recognized by its peers with the Outstanding Research/Science Park Achievement Award from the Association of University Research Parks. Discovery Parks is also a key contributor to the BC Technology Industry Scholarship Fund, supporting young scientists and technologists in their academic endeavours.
About BOMA Go Green:
The BOMA Go Green program is a national environmental recognition and certification program for commercial buildings in Canada. The program is designed, developed and administered by the Building Owners and Managers Association (BOMA) of Canada and by BOMA local associations across the country such as BOMA BC. To achieve BOMA Go Green certification, environmentally responsive policies must be established to address key aspects of building operations including energy use, water use, construction waste, recycling, hazardous materials, material selection, ozone depleting substances, indoor air quality, HVAC maintenance and tenant communications.
For more information, please contact:
Mark Betteridge, Executive Director & CEO
Discovery Parks Trust
604-734-7275
###