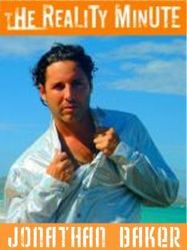 Reality Villains make for awesome television
Los Angeles, CA (PRWEB) June 20, 2008
The current issue of TV Guide (http://www.tvguide.com) names the top ten villains of reality television and reality fans will not be surprised to see Jonathan Baker coming in at number two, following Omarosa from "The Apprentice". Since he first raced into the reality scene on the groundbreaking five-time Emmy Award winning series CBS "Amazing Race 6" with his wife (Playboy Playmate) and artist http://www.VictoriaFuller.net, Jonathan has gone on to become a reality guru with his popular radio show (http://www.realityminute.com).
Fans of "Amazing Race 6" (http://www.cbs.com/primetime/amazing_race6/) tuned in each week to see just how competitive and colorful Jonathan was going to get and as TV Guide states, for his "legendary fights with Victoria." One million emails poured into CBS after Jonathan and Victoria heated up the series in 2005.
"Reality Villains make for awesome television," states Baker. "And year after year they take TV to a new dimension because people can relate to them and their drama and conflicts. Love them or hate them, it is the villains who stir the pot and shake up a series despite their mistakes or missteps. The editors of reality television certainly do a good job to manipulate this highly charged entertainment. I'm honored to join reality royalty as one of its most memorable villains of all times."
Jonathan Baker brings his extensive reality expertise to his popular radio show (http://www.realityminute.com) where each week he has kept reality fans satiated with the latest updates and inside scoop on their favorite reality shows. With extension coverage on the most popular and controversial competitive reality shows including "Girls Next Door", "Amazing Race", "Survivor", and "Big Brother", Jonathan has a unique vantage point as an expert in competitive reality programming, he knows the reality ropes and brings on the most exciting reality guests to help tell the stories and stir the pot too. Jonathan has also been on popular reality shows including E!'s "The Girls Next Door," NBC's "Celebrity/Reality Fear Factor" and Bravo's "Battle of the Network Reality Stars."
For comments on the villains of reality television or the latest reality news in general, Jonathan Baker is an expert who will never back down from controversial and exciting press. Please contact: jonathanbaker @ aol.com.
You can catch up with Jonathan Baker and popular Playboy Playmate and artist Victoria Fuller on their blog:
TV Guide's Top Ten Villains of Reality of all time. Below is the complete list of the villains we love to hate:
Omarosa, The Apprentice and Celebrity Apprentice
Jonathan Baker, The Amazing Race 6
Jonny Fairplay, Survivor Pearl Island and Survivor Micronesia
Puck, Real World San Francisco
Trish Schneider, The Bachelor 5
Lisa Fernandes, Top Chef 4
Spencer Pratt, The Hills
Wendy Pepper, Project Runway
Ramona Singer, The Real Housewives of New York City
Lisa D'Amato, America's Next Top Model 5
###