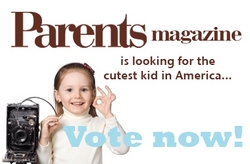 We especially want to thank all the mommy bloggers who not only entered the Parents magazine cover kid photo contest themselves but also encouraged other moms and dads to enter pictures of kids as well
New York, NY (PRWEB) June 20, 2008
The Parents magazine cover kid photo contest ends June 24, 2008, so moms and dads need to enter their pictures of kids very soon. The editors of Parents are looking for the cutest kid in America between six months and six years old to be the cover kid of the magazine's November 2008 issue. Entries are being accepted at http://www.parents.com/app/sharemy/category.jsp?categoryId=cat15400001 .
Visitors to the Contest website have been invited to make one recommendation per day during the Contest period for the entry the visitor feels should be featured on the cover of Parents magazine. While visitor recommendations will not be used as criteria in the judging of entries in any round, the editors of Parents want to thank all those who visited the site and made recommendations.
"We especially want to thank all the mommy bloggers who not only entered the Parents magazine cover kid photo contest themselves but also encouraged other moms and dads to enter pictures of kids as well," says Judy Goldberg, Senior Editor of Parents magazine. "We've created a Web badge for these members of the parenting community to post on their mom blogs and dad blogs."
The Parents magazine cover kid photo contest Web badge can be downloaded from the GoodyBlog at http://www.goodyblog.com/playing_house/2008/06/reminder-parent.html . The Web badge can also be found at http://thestrategicword.com/parents-button.gif .
The Parents magazine judges will review all of the entries and choose 20 semifinalists based on the criteria set forth in the Official Rules. Semifinalists will be asked to provide more pictures for consideration, and then five finalists will be selected to fly to New York City for a professional photo shoot from August 18-23, 2008. One of the photos from that shoot will be selected as the November cover shot.
To enter Parents magazine's online baby photo contest, just upload a picture of your child to http://www.parents.com/app/sharemy/category.jsp?categoryId=cat15400001 before June 24. Your kid could be chosen as one of five finalists, flown to New York City with a guardian and professionally photographed. The most gorgeous child of all will appear on the November 2008 cover of Parents.
About Parents:
Parents magazine has been America's number one family magazine for more than 80 years. Since its inception in 1926, it has been a trusted source by every generation of parents. Currently, the magazine is a powerful community of 15.6 million readers devoted to supporting the efforts of parents, educators and other citizens who strive to make the world a better place for our children. Parents can be found online at http://www.parents.com/ .
###