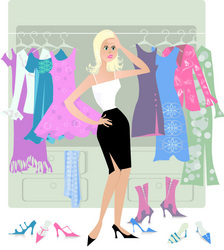 Make Sure You're Dri
Edison, N.J (PRWEB) June 20, 2008
Planning a summer wardrobe isn't always fun for those who worry about their noticeable sweat.
Our bodies - particularly in hot weather - can lose up to a quart of fluid per day, but this is just the average for those individuals who have "normal" perspiration," explains David Bank, M.D., dermatologist and director of The Center for Dermatology, Cosmetic and Laser Surgery in Mount Kisco, NY. Someone with excessive underarm sweating, or axillary hyperhidrosis, as it's called medically, will sweat even more.
"For the millions of people with this condition, or, those who feel their underarm perspiration is a problem, the summer months and the skin-bearing wardrobes that come along with the season are a dreaded time," says Bank.
While there are several options to treat hyperhidrosis, including surgery or Botox injections to the underarm area, Bank recommends that most people start with the least invasive and least expensive options first. Here is what he suggests:

Hang Loose: Wear loose fitting clothes to allow air to circulate around the body, allowing sweat to evaporate. Tight-fitting clothes cause sweat to be trapped in a film on the skin, which can result in body odor or noticeable sweat stains.
Go Natural: Wear natural fibers next to the skin, such as cotton, which allow the skin to breathe. Avoid synthetic man-made fibers, such as nylon or spandex that limit ventilation and actually trap moisture.
Powder's a Plus: Apply a cornstarch-based body powder to help keep skin dryer throughout the day.
Antiperspirant vs. Deodorant: Curb the waterworks while you sleep. Look for Certain Dri® Anti-Perspirant Roll-On with 12 percent aluminum chloride, which is the same active ingredient in prescription-strength antiperspirants, but in a gentler, non-alcohol formula. Certain Dri Antiperspirant is clinically tested and dermatologist-recommended as the most effective solution for excessive underarm sweating, as well as for occasional, excessive sweating due to stress, heat, sports, occupation, etc.
Chill Out: Consider relaxation techniques, such as yoga. This can help to control the stress that can also trigger perspiration. "Many times people who suffer from excessive sweating also worry about it so much that they create a spiral effect. Suffering from excessive sweating can be a debilitating condition on an emotional, social and functional level," says Dr. Bank.
Eat and Drink Right: For some, certain foods and beverages can exacerbate an excessive sweating problem and also cause increased body odor, such as drinks that contain caffeine or foods that contain high amounts of garlic or onions.
While Certain Dri Anti-Perspirant is highly effective in treating excessive perspiration, it is recommended that you make an appointment with a doctor if you suddenly begin to experience profuse perspiration that you have not experienced before, since it can be related to an underlying medical condition that may need medical attention.
Visit http://www.certaindrifeet.com or http://www.certaindri.com for additional information about the products, including the new "Make Sure You're Dri" blog. Or go out and buy the June 23, 2008 issue of Woman's World and see Certain Dri's exclusive sweepstakes offer.
###