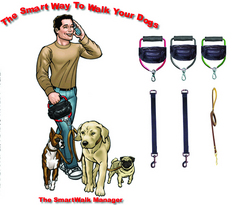 San Diego, CA (PRWEB) June 22, 2008
RG PetComm LLC, the creator of the SmartWalk Manager, previously accepted online International orders from Canada only. We are now accepting all International orders. We have partnered with a trusted third-party company to fulfill orders for our international customers. International customers may pay with international credit cards, PayPal and bank wire transfers. We will ship to any location in the world that its shipping providers will service.
The SmartWalk Manager is for responsible dog owners who:

Love exercising with their pets
Like the convenience of having items such as cell phones and doggy bags available to them while walking and/or traveling with their pets
Having treats and toys available as rewards at the time of the good behavior
Would like the possibility of doing more than holding leashes while walking their dog(s)
The SmartWalk Manager® comes in three colors and two sizes: Large for dogs over 50lbs and small for dogs under 50lbs. RG PetComm has also introduced a SmartWalk Manager Leash, with detachable handles, specifically designed for the SmartWalk Manager, which is sold separately. The SmartWalk Manager works with all your existing nylon and leather leashes.
The SmartWalk Manager can be used by the owners of one or many dogs. Unlike leash couplers, currently available on the market for walking multiple dogs, the SmartWalk Manager allows the walking of dogs of "any" size. If the larger dog makes a sudden move to the left or right, the smaller dog goes flying in the air when using couplers. With the SmartWalk Manager® the movement of the larger dog can be corrected by the owner prior to the smaller dog being affected. When walking more than 1 dog, my product allows more freedom to each dog than does a coupler.
Kids fall instantly in love with the SmartWalk Manager® and the soft ergonomic handle makes the daily task of walking your dog(s) more enjoyable. The shape of the aluminum Leash Retainer evenly distributes the pull of your pet to alleviate strain and muscle fatigue. The product can also be used by owners who rollerblade with their pets.
About RG PetComm LLC
RG PetComm LLC is a San Diego-based startup company founded in 2005; RG PetComm LLC has developed and marketed a new breed of pet product in the high-demand "Travel/Storage/Leash" category. This new and exciting product allows dog owners the ability to multi-task while walking multiple dogs of varies sizes. RG PetComm's patent pending device, called the SmartWalk Manager, can be purchased at http://www.RGPetComm.com.
###